No Stranger To Controversy, Texas Pizza Chain Takes Heat Over Spicy Name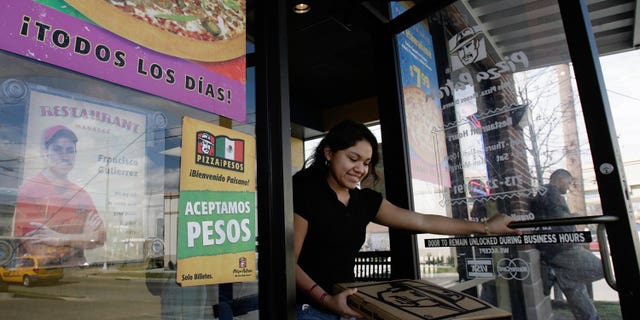 A Texas-based pizza chain that's no stranger to controversy claimed censorship over decisions by media outlets to cancel segments or mention of Pizza Patrón's latest pizza offering because of its marketing name.
The pizza, which includes nearly 90 slices of jalapeño-encrusted pepperoni as well as fresh pepper slices, is called "Pizza La Chingona," using a slang term that, even in Spanish, it won't be mentioned on air. The ad features personalities bragging that they are "chingón" (the masculine form of the word) enough to try the company's spicy new pizza.
The verb form of "chingón" translates into English as the F-bomb.
"It's probably something you wouldn't tell your grandma or your mother," said one customer.
But many Mexicans and Mexican-Americans use the word with great regularity, often with a sense of things being "super-cool" or "awesome." And apparently, that's what the company had in mind when it chose the name.
"It's very spicy, and it's very good," says said Pizza Patrón Regional Director Yesica Cardosa.
Austin, Tex., Spanish-language radio station "La Z" will air the commercial, but you won't hear the pizza's name.
"It has to be bleeped, we're not going to air it unfiltered, for sure," said Chase Rupe, VP of programming and operations at Emmis Communications.
Like English-speaking TV and radio stations, the radio station is governed by Federal Communications Commission rules.
"Really don't have bright lines as to what we can and can't say [in Spanish], so it becomes a local judgment call, and we can certainly get fined if we err on the wrong side of that judgment," said Rupe.
Violating FCC guidelines can cost stations thousands of dollars. Pizza Patrón, whose client base is around 70 percent Latino and immigrant, said several radio stations across the country are doing the same with the ad, but the chain doesn't plan on changing the pizza's name.
The company has remained mostly mum on the matter, but a link on its website takes you to a statement alleging that the company is being censored for "speaking Mexican."
"The decision to ban the spots over the name La Ch!#gona doesn't make much sense to us," said Andrew Gamm, brand director for Pizza Patrón in the statement. "We are being selectively censored to protect the Mexican listeners from so-called potentially 'offensive' language. These same networks regularly feature songs and talk-show dialogue that is much more risqué than anything we are doing."
According to the Real Academia Española, the official institution responsible for overseeing the Spanish language, "chingón" is defined as a Mexican slang term that is, "said of a person who is competent in an activity or knowledgeable in a specific area." So it goes with the contemporary interpretation mostly used by Mexican and Mexican-American youngsters.
Pizza Patrón is a Dallas-based company with 89 franchises, mainly in Texas. Its founder and current chairman is Antonio Swad, who is of Lebanese and Italian descent.
In 2013, the company closed 20 locations that were underperforming in markets like El Paso, Las Vegas and San Diego. Despite the closings, the company registered record sales in 2013 of $39.4 million. (Twenty-five new franchises are expected to open this year — 20 of them in the Dallas-Fort Worth area.)
The company has made a name for itself with a long history of marketing promotions that many people find outrageous.
In 2007, the restaurant chain began accepting Mexican pesos at some of its locations, and alerted customers to the fact with an ad campaign that included the Mexican flag and the catchphrase "Welcome, countryman" in Spanish.
The company received hundreds of e-mails and calls accusing them of abetting illegal immigration and being anti-American. There were even death threats, they said.
"We took a lot of heat," Gamm told the Atlanta Journal-Constitution at the time. "Obviously, it really struck a nerve with a lot of people."
Five years later, the company made waves again when, for three hours on a Tuesday evening in June, all its locations gave away free pies to any customer who asked for them in Spanish.
All people had to say was, "Pizza, por favor," and the company's ads for the giveaway instructed people how to say it.
Still, Peter Thomas, chairman of the Conservative Caucus, told USA Today:"It seems to punish people who can't speak Spanish, and I resent that … In public areas, people should be speaking English, and that includes pizza parlors."
Read more stories at okcfox.com
Follow us on twitter.com/foxnewslatino
Like us at facebook.com/foxnewslatino