No death penalty for Jodi Arias; second hung jury takes capital punishment off table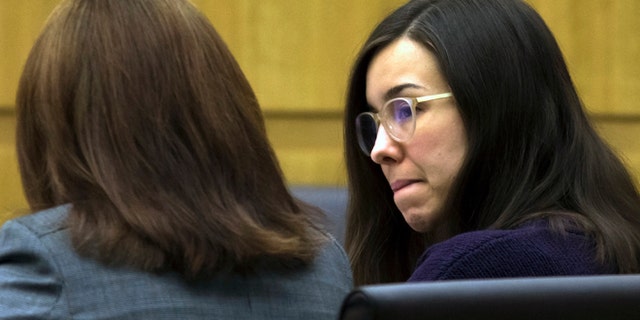 NEWYou can now listen to Fox News articles!
The jury in the sentencing trial for convicted murderer, Jodi Arias, was unable to come to a decision in Maricopa County Superior Court Thursday at noon.
Now the presiding judge, Sherry Stephens, will decide between life without parole or the possibility of being released in 25 years.
Arias will be taken now to Perryville Prison's maximum security Lumley Unit. Hearings in the sentencing were scheduled for April.
Jurors deliberated for five days. Earlier in the week, Arias' attorneys had said jurors were at an impasse, but Judge Stephens at that point denied a mistrial request.
After another few days, the jury was no closer to a unanimous decision.
Arias was convicted of murder in 2013 after a lengthy trial that became a sensation with its tawdry revelations about her relationship with victim Travis Alexander.
That jury also deadlocked on her punishment, prompting the sentencing retrial that began in October.
Last week Arias declined to address the jury directly. In Arizona, people convicted of crimes in which prosecutors are seeking the death penalty have a right to make statements to jurors before they are sentenced.
Arias' refusal to do so means she passed up a chance to ask for mercy without being under oath and without facing questions from prosecutors.
Arias was convicted last year in the 2008 death of former boyfriend Travis Alexander, but the jury deadlocked then on her punishment.
A new jury has been hearing testimony on whether she should be sentenced to life in prison or death.
Prosecutors said Arias attacked Alexander in a jealous rage after he wanted to end their affair and planned a trip to Mexico with another woman. Arias has acknowledged killing Alexander but claimed it was self-defense after he attacked her.
As she did earlier in the sentencing retrial, Arias also cited potential personal safety threats in declining to address the jury.
She said she wanted to make comments to jurors but insisted that the courtroom be cleared. She said she wouldn't make any remarks if she could be seen and heard from a remote viewing room.
However, Judge Stephens said that an appeals court ruling forbade Arias from making such comments behind closed doors.
In late October, Stephens kicked the public out of the courtroom to allow the testimony of a then-unidentified witness who was skittish.
An appeals court later overturned Stephens' courtroom-closure decision and revealed that the witness in question was Arias herself. Her testimony was halted before the prosecutor got a chance to question her, though the prosecutor had already questioned her at her 2013 trial.
A transcript of her testimony in late October was eventually released, revealing few new details about her actions in Alexander's killing.
Based on reporting by the Associated Press.
Like us on Facebook
Follow us on Twitter & Instagram