NJ Gov. Christie says oil pipeline should have been approved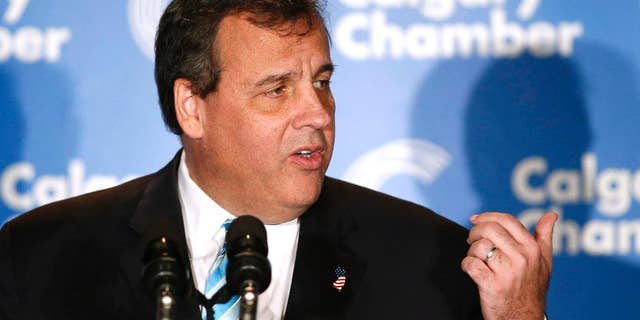 CALGARY, Alberta – New Jersey Gov. Chris Christie said Thursday the Keystone XL pipeline from Canada should have been approved a long time ago and the U.S. regulatory process has gone overboard.
Christie made the remarks during a press conference in Calgary, Alberta while on his second foreign trip in recent months, which has given him the chance to build a foreign policy platform and demonstrate his policy chops as he considers a run for president in 2016.
Christie, in the center of Canada's oil boom, said the pipeline from Alberta to U.S. Gulf Coast refineries should be approved on its merits.
For six years, the fate of the 1,179-mile (1,900 kilometer) long pipeline has languished amid debates over climate change, the intensive process of extracting Alberta's oil and U.S. energy security. The latest delay came after a lawsuit was filed in the U.S. state of Nebraska over its route.
Christie said the pipeline would create much needed jobs and noted that there are already some 17 cross-border oil pipelines in operation.
"Approving Keystone would actually drive down the price of oil and help consumers in all North American countries. It should be done today and it should be done already," Christie said later at a speech at the Calgary Chamber of Commerce.
The pipeline has long been a flashpoint in the U.S. debate over climate change. Critics oppose the concept of tapping the Alberta oil sands, saying it requires huge amounts of energy and water, increases greenhouse gas emissions and threatens rivers and forests. Some projects are massive open-pit mines, and the process of separating oil from sand can generate lake-sized pools of toxic sludge.
Delays in approving the pipeline have caused friction between the U.S. and Canada, which needs infrastructure in place to export its growing oil sands production. Canada relies on the U.S. for 97 percent of its energy exports. Alberta has the world's third largest oil reserves, with 170 billion barrels of proven reserves.
"I've gotten the impression over time, watching American foreign policy, that Canada has been an afterthought and I believe it should be a first thought," Christie said at the earlier press conference.
"I don't think we pay enough attention to this relationship as Americans in general. I've made a very conscious decision to come to Canada and to come here to Alberta because we should treat our friends with both respect and attention."
On Friday, Christie will meet with Prime Minister Stephen Harper and members of his cabinet in Ottawa and attend a wreath-laying at the National War Memorial, where a soldier was recently gunned down.
The trip ends in Toronto, where Christie will tout New Jersey to CEOs and banking executives and meet with utility company representatives who helped the state in the aftermath of Superstorm Sandy's destruction two years ago. He will also deliver a private speech at the exclusive Albany Club. Christie also recently visited Mexico.
Christie has faced growing criticism for refusing to weigh in on divisive issues like immigration, fueling questions in Republican circles about whether he's doing enough to study up on issues he'll have to discuss in depth if he runs for president. But his comments on Keystone provide a safer topic he can address. Republicans have long urged the Obama administration to approve the project.
Christie is not the first presidential prospect to visit Canada this year. Hillary Clinton, one of the Democrats' possible contenders, has visited Canada several times since leaving office and said in June in Toronto that the pipeline shouldn't be seen as a proxy for the relationship between Canada and the United States. Clinton, who served as Obama's top diplomat, avoided directly commenting on the merits of the pipeline.