Nine troubling statements from Turkey's Erdogan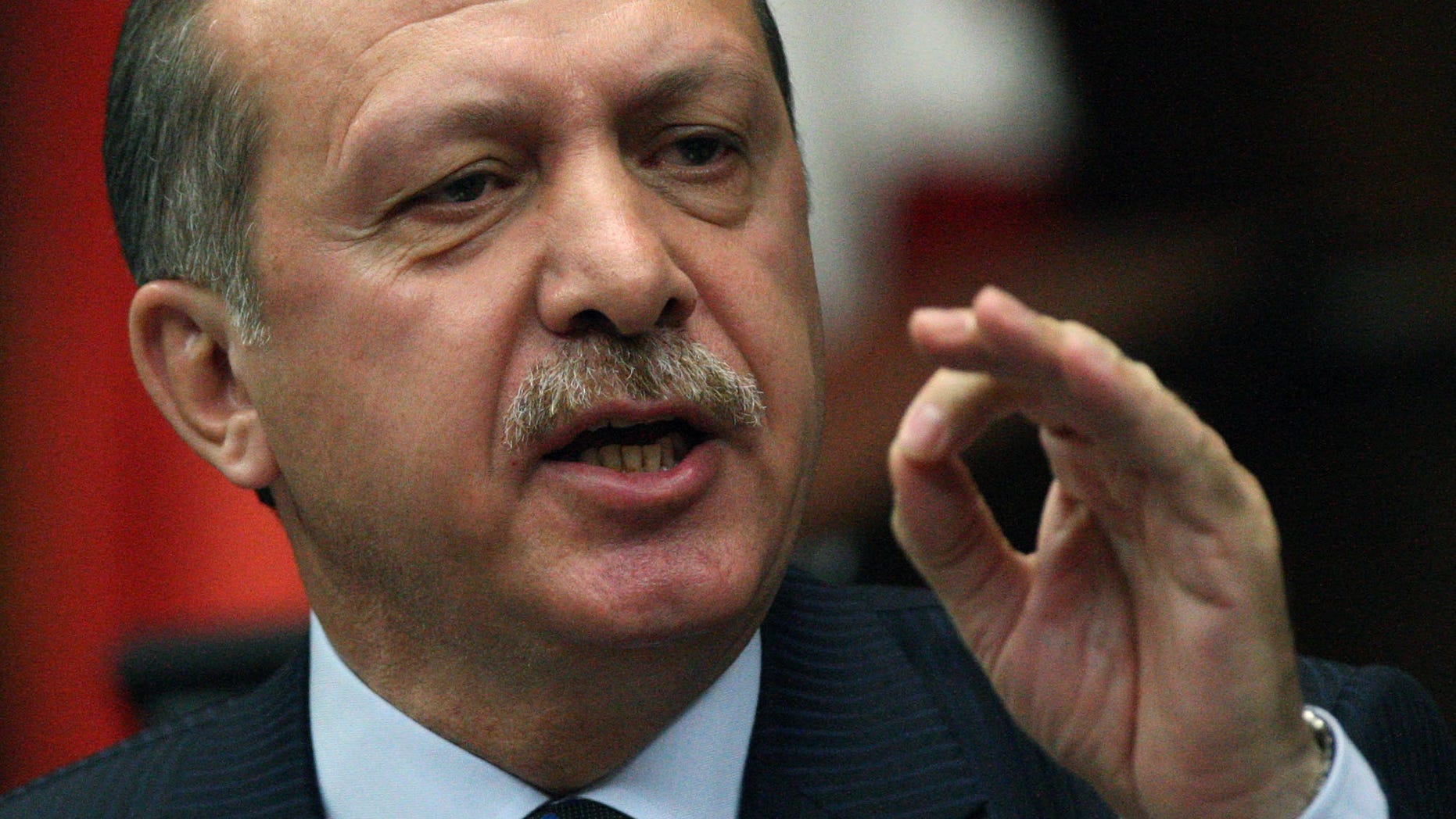 Turkish President Tayyip Erdogan's claim that Muslims have "never taken part in terrorist massacres" is only the latest in a series of controversial statements that appear to highlight his increasingly Islamist policies, and a deepening animosity for the West. Among his headline-grabbing pronouncements over the last year:
1) Foreigners "Like Seeing Our Children Die"
Addressing a November committee meeting of the Organization of Islamic Cooperation in Istanbul, Erdogan railed against "foreigners" hostile to the Muslim world. "They look like friends, but they want us dead, they like seeing our children die. How long will we stand that fact? I speak openly; foreigners love oil, gold, diamonds, and the cheap labor force of the Islamic world. They like the conflicts, fights and quarrels of the Middle East."
2) The Muslim World - on its Own - "Can Resolve Every Problem"
Erdogan also told the conference "the only condition to overcome the crisis in the Islamic world is unity, solidarity and alliance. Believe me, we can resolve every problem as long as we are united." He specifically said Muslims together can solve the problems of Palestine, "the bloodshed in Iraq and killing of Syrian children."

3) America Was Discovered by Muslims
"Muslim sailors arrived on the shores of America in 1178," Erdogan told the first meeting of Muslim leaders from Latin America in November, adding that "in his diaries, Christopher Columbus referred to the presence of a mosque on top of a mountain in Cuba." Erdogan then said he would build a mosque "on that hill," if the Cuban government allowed. He said this despite there being no evidence of any pre-Columbus Muslim structure in Cuba, or anywhere else in the Western Hemisphere.
4) Gender Equality? It's "Against Nature"
"You cannot bring women and men into equal positions," Erdogan said in a November speech. The issue is a particularly sensitive one in Turkey, which during decades under a secularist leadership that Erdogan now reflexively pillories had been the model in the Muslim world for the advancement of women's rights.
5) Israel has "Surpassed Hitler in Barbarism"
During the Israeli incursions into Gaza last July, Erdogan spoke at a rally and repeated his frequent criticism of the Jewish state. "Those who condemn Hitler day and night have surpassed Hitler in barbarism," he said. More recently, Erdogan slammed Israeli Prime Minister Benjamin Netanyahu's attendance at the anti-terror rally in Paris on Sunday, saying he could "hardly understand how he (Netanyahu) dared to go."
6) Birth Control is "Treason"
Though Turkey has one of the younger and more vibrant populations in Europe, Erdogan used the occasion of a wedding last month to denounce attempts at family planning. Saying more children were needed "to take Turkey above the level of modern civilizations," he said those who disagreed "have been engaged in the treason of birth control for years, and sought to dry up our generation."
7) "We'll Eradicate Twitter"
Speaking at a Turkish campaign rally last year, Erdogan blasted the social media tool. "I don't care what the international community says," he proclaimed. "Everyone will witness the power of the Turkish Republic." Twitter, Facebook and other social media services have since faced regular disruptions across Turkey.
8) And Maybe the Whole Web
"I am increasingly against the Internet every day," Erdogan was quoted as saying at an October meeting of the Committee to Protect Journalists (CPJ) in Ankara. "Media should never have been given the liberty to insult." It is in fact illegal to insult the president, as evidenced by the recent arrest of a 16-year-old boy who referred to a "thieving" Erdogan during a small public rally. The boy was released after intense public outcry, but could still be tried and sentenced to up to four years in prison.
9) Robots Are Out to Get Him
Erdogan told a group of his ruling Justice and Development Party last year that his opponents relied on "lobbies" in their attempts to attack him. More specifically, "the robot lobby that they set up on social media hits with tweets. They tell them to increase the number of tweets." His comments were ridiculed by the very "tweets" he aims to silence, with some posting satirical, Photoshopped images of Erdogan or Turkish police challenged by robot protestors.