Nine drown in India river during Hindu festivals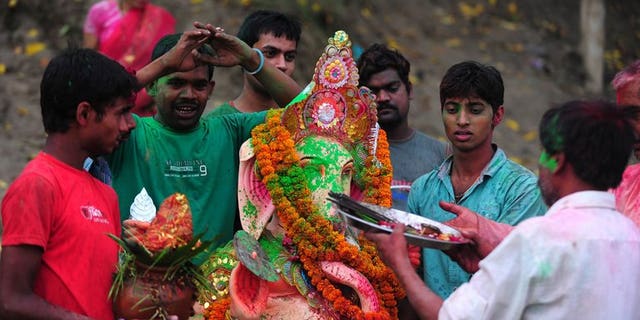 NEW DELHI (AFP) – Nine people have drowned in India's capital during religious festivals that involve immersing statues of Hindu gods in a river, an official said Thursday.
Five devotees drowned in New Delhi's Yamuna River during a ritual that involves submerging idols of the elephant-headed Hindu god Ganesha, a city fire department official said.
The deaths occurred in separate incidents along the Yamuna, the largest tributary of the Ganges, on Wednesday, said fire control room duty official Ramanand, who uses one name.
"Young people carrying idols often wade out deep into the waters and then fail to make it back to the banks and drown," Ramanand told AFP.
"It's religious zeal and enthusiasm which draws the victims into death traps," he added.
Four people also drowned in the Yamuna during a separate festival involving immersing statues of Lord Vishwakarma, the god of craftsmen and architects, the fire official said.
He said rescue workers have been deployed to trawl the river amid reports of others missing.
Thousands of Hindu devotees take to waterways nationwide to mark the end of a 10-day festival honouring Ganesha, worshipped for his ability to remove obstacles and bring good luck.
The festival sees crowds parade idols, some 25-feet (7.6-metres) high, through the streets in colourful and lively processions, before heading to rivers, oceans or lakes for immersions which are meant to farewell the god back to heaven.
In Mumbai, which hosts some of the biggest festivals, some 76 people have needed medical treatment after being stung by stingrays during immersions in the sea, local media reported.
Mumbai authorities have stepped up safety precautions with devotees instructed to wear gumboots and teams of medical staff on standby, the Mid Day newspaper said.