Nigerian president declares state of emergency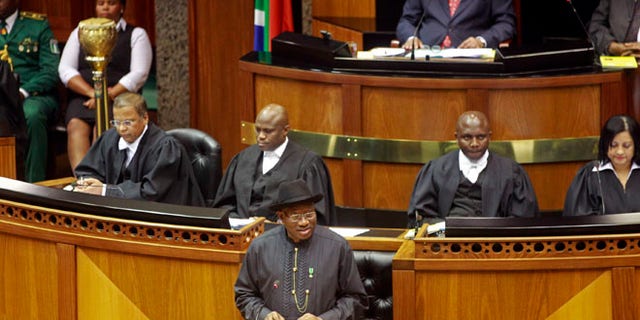 Nigeria's president declared a state of emergency Tuesday across the country's troubled northeast, promising to send more troops to fight an increasingly violent Islamic insurgency.
Islamist sect Boko Haram -- whose name means "Western education is sacrilege" in the Hausa language of Nigeria's north -- has intensified its attacks on security forces and government targets in its northeast stronghold this month, prompting President Goodluck Jonathan to declare a state of emergency in certain states.
Last week, dozens of Boko Haram fighters in buses and machine gun-mounted trucks laid siege to the town of Bama, in Borno, killing 55, mostly police and other security forces, and freeing more than 100 prison inmates. Days earlier, scores were killed in the fishing village of Baga, also in Borno, on the shores of Lake Chad, when troops from Nigeria, Niger and Chad raided it looking for Islamists. Local residents said soldiers were responsible for many civilian deaths.
President Jonathan, speaking live on state radio and television networks, also warned that any building suspected to house Islamic extremists would be taken over in what he described as the "war" now facing Africa's most populous nation. However, it's unclear what the emergency powers will do to halt the violence, as a similar past effort failed to stop the bloodshed.
"It would appear that there is a systematic effort by insurgents and terrorists to destabilize the Nigerian state and test our collective resolve," Jonathan said.
Jonathan said the order will be in force in Adamawa, Borno and Yobe states. He said the states would receive more troops, though he will not remove state politicians from their posts. Under Nigerian law, the president has the power to remove politicians from their posts and install a caretaker government in emergency circumstances.
The president's speech offered a stark vision of the ongoing violence, often downplayed by security forces and government officials for political reasons. Jonathan described the attacks as a "rebellion," at one point describing how fighters had destroyed government buildings and "had taken women and children as hostages."
"Already, some northern parts of Borno state have been taken over by groups whose allegiance are to different flags than Nigeria's," Jonathan said.
The president later added: "These actions amount to a declaration of war and a deliberate attempt to undermine the authority of the Nigerian state and threaten (its) territorial integrity. As a responsible government, we will not tolerate this."
This is not the first time Jonathan has implemented emergency measures. In December 2011, Jonathan declared a state of emergency over some limited local government areas in the states, after a church bombing blamed on Boko Haram killed 37 people, but he lifted it in July last year. This new decree, however, is more drastic and covers whole states, likely to cause conflict with powerful governors sitting in those states, as well as the political opposition. On Monday, the Nigeria Governors' Forum, representing the governors of Nigeria's 36 states, issued a statement warning Jonathan against imposing emergency rule in response to the insurgency.
According to an Associated Press count, more than 1,600 people have been killed in attacks by Islamic insurgents since 2010. Recently, Nigeria's military has said Islamic fighters now use anti-aircraft guns mounted on trucks to fight the nation's soldiers, likely outgunning the country's already overstretched security forces.
Boko Haram has said it wants its imprisoned members freed and strict Islamic law adopted across the multiethnic nation of more than 160 million people. It has produced several splinter groups, and analysts say its members have contact with two other Al Qaeda-linked groups in Africa.
The Islamic insurgency in Nigeria grew out of a 2009 riot led by Boko Haram members in Maiduguri that ended in a military and police crackdown that killed some 700 people.
The group's leader died in police custody, in an apparent killing. From 2010 on, Islamic extremists have engaged in hit-and-run shootings and suicide bombings. Recently, however, they've begun to use military-grade weapons, some of which they apparently seized from Nigerian military stockpiles.
Nigeria's military and police also have been repeatedly accused by human rights activists and others of torturing and summarily killing suspects, as well as burning down civilian homes and killing civilians in retaliation for militant attacks.
The latest incident, in a fishing village in Borno state along the shores of Lake Chad, saw at least 187 people killed and there are allegations that soldiers are responsible. While the military has denied repeatedly that it attacks and kills civilians, the country's armed forces have a history of committing such assaults.
Separately on Tuesday, an official in the central Nigerian state of Kaduna said gunmen armed with assault rifles and suspected to be Hausa-Fulani cattle herders killed 11 people in a village there. And in Benue state, a government spokesman said an attack blamed on Hausa-Fulani cattle herders there killed at least 12 people.
The Associated Press and Reuters contributed to this report.