Nigerian legislators debate offering asylum to Gambia leader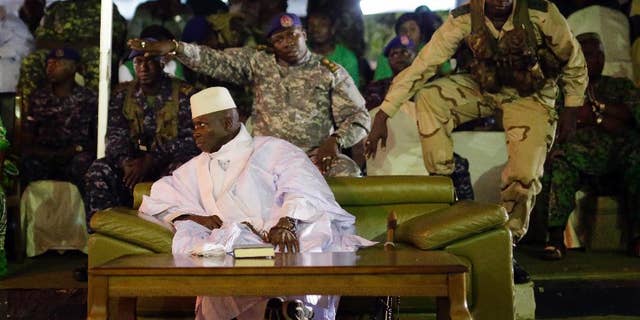 NEWYou can now listen to Fox News articles!
LAGOS, Nigeria – Nigerian legislators are debating whether to offer asylum to Gambia's longtime leader, who is refusing to cede power after losing elections.
Rep. Yisa Orker-Yev told The Associated Press a motion to offer a safe haven to President Yahya Jammeh will be debated later Thursday. It was not clear if Jammeh requested the asylum.
Nigeria's President Muhammadu Buhari is leading a committee of the Economic Community of West African States trying to negotiate a diplomatic resolution. The regional bloc also has a military force on standby to intervene if Jammeh does not step down when his mandate expires Jan. 19.
Jammeh initially accepted defeat at Dec. 1 elections, but changed his mind, ordered troops to take over the electoral commission office and is challenging election results at the Supreme Court.