Nigerian cook trapped for nearly 3 days in sunken ship tells incredible story of survival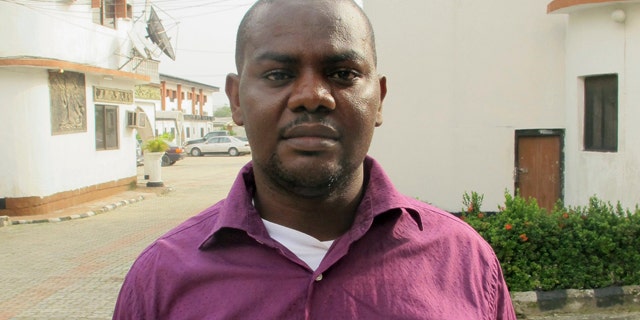 A ship's cook says he "prayed about a hundred times" while he spent more than 60 hours trapped inside a sunken tugboat off Nigeria, before making it out alive.
Reuters reports 29-year-old Harrison Okene was the only crew member to survive when the Jascon-4 tugboat capsized on May 26 due to heavy Atlantic ocean swells around 20 miles off the coast, while stabilizing an oil tanker filling up at a Chevron platform.
Eleven Nigerians and a Ukrainian captain were onboard the AHT Jascon 4 – an oil service tugboat –when it sank, the Nigerian newspaper The Nation reports.
Okene was in the bathroom when the ship started to sink, but all of his crew members were in their rooms asleep with the doors locked – a security requirement for protection against pirate attacks.
"I made my way out of the toilet, groped through the dark into a place I imagined was the officers' restroom," Okene told The Nation. "I wasn't seeing [anything], I was just feeling my way with my hands."
Okene managed to find an air pocket inside the ship and stayed afloat on two mattresses as water levels began rising. The ship was about 100 feet under water.
"When I was tired, I started calling on the name of God," Okene said. "I was just calling on His name for divine intervention. I started reminiscing on the verses I read before I slept."
Okene then heard the sounds of fish moving throughout the ship. Afraid that they were sharks or barracudas hunting for his fallen crew members, he armed himself with a plank, The Nation reports.
"I was so hungry but mostly so, so thirsty. The salt water took the skin off my tongue,'' he told Reuters. Sea water got into his mouth but he had nothing to eat or drink throughout his ordeal.
Rescue crews eventually reached the Jascon 4, and Okene said he heard the sound of paddling and divers around outside the ship.
He grabbed a hammer and started banging on the walls, hoping to get their attention, but the sounds faded away.
After an undisclosed period of time, Okene said he heard movement in the icy waters around him, and decided to jump into the water in search of a rescuer.
"When I located him, I was the one who touched the diver, I touched his head and he was shocked," Okene told The Nation. "As he was shocked, he stretched out his hands. I touched him."
Okene was pulled out of the ship with a safety rope and oxygen mask nearly three full days after the ordeal began. The bodies of 10 of the other crew members were recovered by divers but the eleventh has not yet been found.
Click for more from The Nation.
Reuters contributed to this report