Niger ambush that killed 4 US soldiers blamed on multiple failures, Pentagon says
Multiple failures are to blame for the Niger ambush that killed four U.S. service members last October, the Pentagon said in a report released Thursday that cited insufficient training and preparation in addition to the decision to go after a high-level Islamic State terror group insurgent without proper command approval.
Defense Secretary Jim Mattis directed Gen. Thomas Waldhauser, head of U.S. Africa Command, to take immediate steps to address shortfalls, and has given senior leaders four months to complete a review and lay out a plan for additional changes.
"I take ownership of all the events connected to the ambush of 4 October," Waldhauser said at a news conference. "Again, the responsibility is mine."
The head of U.S. Africa Command said changes have already been made in the way military activities are carried out in Niger and elsewhere in Africa.
"We are now far more prudent on our missions," Waldhauser said.
The summary lays out the chain of events that unfolded on Oct. 3-4, which ended in a lengthy, brutal firefight as 46 U.S. and Nigerian forces battled for their lives against more than 100 enemy fighters.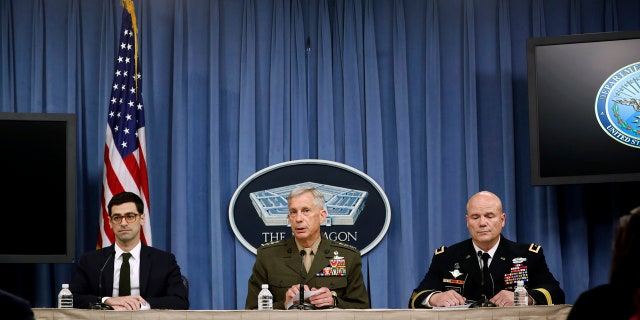 The report also identified repeated acts of bravery as the outnumbered and outgunned soldiers risked their lives to protect and rescue each other during the more than hour-long assault.
"This investigation identifies individual, organizational, and institutional failures and deficiencies that contributed to the tragic events of 4 October 2017," the summary released by the Pentagon said. "Although the report details the compounding impact of tactical and operational decisions, no single failure or deficiency was the sole reason for the events of 4 October 2017."
Military officials found that the U.S. forces didn't have time to train together before they deployed and did not do pre-mission battle drills with their Nigerian partners. There was also a "lack of attention to detail" in addition to lax communication about missions that led to a "general lack of situational awareness and command oversight at every echelon."
US MILITARY DEATHS IN NIGER ATTRIBUTED TO COMPLACENCY, LACK OF TRAINING, CULTURE OF EXCESSIVE RISK: REPORT
According to the report, the Army Special Forces team left Camp Ouallam on Oct. 3 to go after Doundou Chefou, an ISIS leader who was suspected of being involved in the kidnapping of an American aid worker. But the team leader and his immediate supervisor submitted a different mission to their higher command, saying they were simply going out to meet tribal leaders. That less-risky mission was approved, but when the Ouallam team got to the location the insurgent wasn't there.
Senior commanders, unaware of the team's earlier actions, then ordered the troops to serve as backup for a second team's raid, also targeting Chefou. That mission was aborted when weather grounded the second team. The Ouallam team members were then ordered to another location to collect intelligence also linked to Chefou, which they did without problems. On their way back to their home base, they stopped at the village of Tongo Tongo to get water.
Soon after leaving Tongo Tongo, about 120 miles north of Niamey, Niger's capital, they were ambushed by ISIS-linked militants carrying small arms and rocket-propelled grenade launchers.
The report concluded that although the enemy moved freely around the village area, "there is not enough evidence to conclude that the villagers of Tongo Tongo willingly (without duress) supported them. Additionally, there is insufficient evidence to determine if villagers aided the enemy or participated in the attack."
MAJOR INTELLIGENCE, STRATEGIC FAILURES HELPED SPUR US SOLDIERS' DEATHS IN NIGER, REPORT SAYS
Killed in the attack were: Army Sgt. La David T. Johnson, 25, of Miami Gardens, Fla.; Staff Sgt. Bryan C. Black, 35, of Puyallup, Wash.; Staff Sgt. Jeremiah W. Johnson, 39, of Springboro, Ohio; and Staff Sgt. Dustin M. Wright, 29, of Lyons, Ga. Four Nigerian troops were killed and two American soldiers and eight Nigerian forces were wounded.
The report said that the four soldiers killed in the attack "gave their last full measure of devotion to our country and died with honor while actively engaging the enemy." It said that none were captured alive by the enemy, and all died immediately or quickly from their wounds. Sgt. La David Johnson and two Nigerien soldiers got separated from the others during the battle and were gunned down.
The soldiers faced small arms fire, rocket-propelled grenades, machine guns, and mortars in the ambush.
The Pentagon said that it took two days to recover Johnson's body because they received "errant reporting" that he was being held in a village north of Tongo Tongo.
The investigation was led by U.S. Africa Command's chief of staff, Maj. Gen. Roger Cloutier Jr., whose team conducted dozens of interviews across the U.S., Europe and Africa. He said the four Americans are being considered for the military's top valor awards.
"The search for La David Johnson never stopped,"  Cloutier said Thursday. "He ran 960 meters. He ran a long way from where he was last seen and he made his last stand where he fought to the end under a dense, thorny tree. It took a long time to find him."
Robert Karem, Assistant Secretary of Defense for International Security Affairs, said there are 800 Department of Defense personnel in Niger, a small fraction of which are U.S. Special Operations troops. Most of those based in Niger are constructing a drone base to assist in in search for ISIS and Al Qaeda militants.
The U.S. has had a footprint there for 20 years but none of those US troops in Niger are supposed to be engaged in combat, according to Karem.
Families of the fallen have expressed frustration with the incident and the briefings they received.
"The whole thing was a screwed-up mess," Arnold Wright, father of Staff Sgt. Dustin Wright of Lyons, Ga., who was killed in the attack, told the Associated Press.
Fox News' Jennifer Griffin and The Associated Press contributed to this report.