News Guide: A look at key developments as military carries out coup in Thailand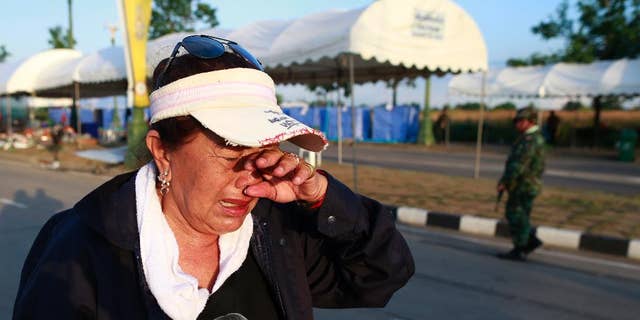 BANGKOK – Thailand's military seized power in a coup and suspended the constitution Thursday after six months of political deadlock and protests. Here's a summary of events and a guide to understanding what is happening:
HOW IS THE COUP PLAYING OUT?
A military commission has taken control of the country's administration. All national broadcasting has been suspended and replaced with the commission's announcements and patriotic music. BBC, CNN and other international TV news networks have been blocked.
Streets and public transportation were crowded with people hurrying home before a nationwide curfew between 10 p.m. and 5 a.m. The military ordered all schools to close until Monday.
Soldiers were not seen patrolling in central Bangkok, but troops were deployed to the two rival camps of protesters, who dispersed without apparent resistance.
THE GENERAL
The powerful army chief, Gen. Prayuth Chan-ocha, announced the military takeover on television. Now 60, he is scheduled to retire in September. Prayuth is notorious for flippant comments and gruff answers to the media.
He became army commander-in-chief in October 2010, five months after one of Thailand's deadliest political conflicts in decades, when troops moved in to disperse protesters in Bangkok's central business district, leaving scores dead and hundreds wounded.
Prayuth is known for his loyalty to the monarchy, especially to Queen Sirikit, since serving in the 21st Infantry Regiment, known as the Queen's Guard. His predecessor and mentor, former army chief Gen. Anupong Phaochinda, was once commander of the same regiment. Both Prayuth and Anupong played key roles in the 2006 coup that toppled former Prime Minister Thaksin Shinawatra.
WHAT LED TO THIS?
Street protests started in November against then-Prime Minister Yingluck Shinawatra, Thaksin's sister, and she dissolved the lower house of Parliament in a failed bid to ease the crisis. A court ousted her for nepotism this month but left the ruling party in place. The anti-government protesters wanted to install an unelected prime minister to make unspecified reforms they said would root out corruption and remove the Shinawatra family's extensive influence from politics.
In first declaring martial law on Tuesday, the army said it needed to restore order. Last week, grenades fired at an anti-government protest site in Bangkok left three people dead and more than 20 injured.
Prayuth assumed the role of mediator by summoning seven key political rivals for their first face-to-face talks since the political turmoil escalated six months ago. Two days of meetings among bitter enemies failed to break the deadlock.
WHAT'S NEXT?
Prayuth said the coup was launched "to quickly bring the situation back to normal, to let the people have love and unity as in the past, and to reform the political and economic systems — and to grant equality to every side."
He also asked the public not to panic and carry on their lives normally.