Newly ID'd Paris attacker urged jihadists to 'blow everything up,' be 'enemy from within'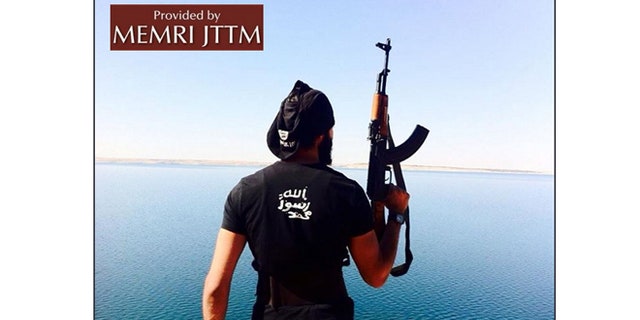 NEWYou can now listen to Fox News articles!
The Paris attacker whose remains were finally identified earlier this week was a committed jihadist who joined ISIS in its infancy, and encouraged radicals to resist integration in France, according to newly uncovered social media posts.
Foued Mohamed-Aggad, a 23-year-old Frenchman of Morrocan descent, was identified as one of three gunmen who killed as many as 89 concert-goers at The Bataclan Theatre music hall Nov. 13, in the most deadly phase of the coordinated attacks that left 130 dead and hundreds more wounded. Once his name was confirmed, Middle East Media Research Institute (MEMRI) traced his digital trail and established he was a member of ISIS dating back to December, 2013, when the terror organization was just emerging.
"[This is a] message to the brothers in faith, those who cannot make hijra [immigration to Islamic State] for x reason," Aggad wrote in a July 18, 2014 post. "Cause attacks, be an enemy from within, blow everything up, it doesn't matter where or how, by any means! Kill them wherever you find them! Do not attempt to integrate yourself in France, they do not even want you!"
That post was one of several MEMRI uncovered and translated from French from a Facebook account Aggad held from June to August 2014.
"Cause attacks, be an enemy from within, blow everything up, it doesn't matter where or how, by any means!"
The militant, who wrote on a number of different Facebook accounts under variants of the name Abou Foued Al-Muhajir ("the immigrant"), even "check-in" on Facebook in 2013 in which he stated that he was in the Syrian city of Deir Ez-Zor and working for the Islamic State and "fighting in the front line martyrdom."
Aggad was born in 1992 and was originally from Strasbourg in the east of France. His family is of Moroccan origin and it is believed that he first reached Syria in December 2013 with a group of young men from the same region, including his own brother. It is believed that he was married to a woman of French descent and she is currently in Syria or Iraq with ISIS.
The Le Parisien newspaper first identified the third attacker as Aggad on Wednesday. The paper reported that Aggad's mother received a text message in English about 10 days ago announcing her son's death "as a martyr" on Nov. 13 — a typical way that ISIS notifies families of casualties.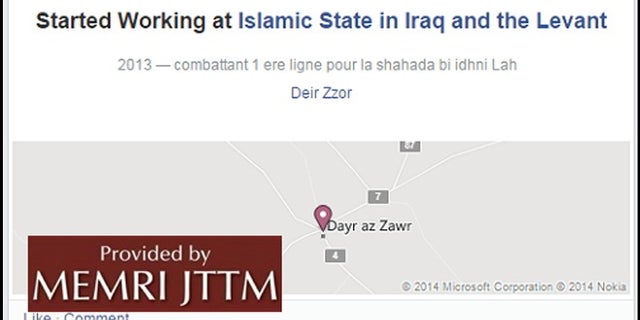 "What kind of human being could do what he did?" the man's father, Said, told the newspaper. "If I had known he would do something like this, I would have killed him."
The militant often shared photos of himself with his baby and stated online that he was deployed in both Syria and Iraq as a combat infantry fighter. He shared photos on social media that backed his claim.
"Allah be praised, I got a new job for the sake of Allah: PKC [machine gunner]," read a caption from a photo he posted on Facebook.
Aggad was even urged to come back to France by another militant to carry out jihad.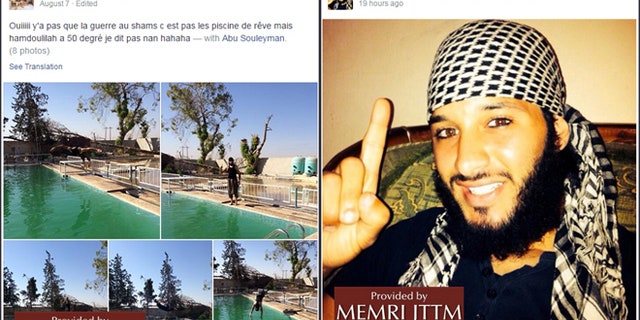 "Come back to France to do it, it's too easy to do it in the Levant," an ISIS fighter identified as Foulan Ibn Foulan wrote to Aggad in the same Facebook exchange.
Aggad and other jihadist also discussed NATO in Belgium and the UN in Geneva as possible targets.
It appears that Aggad was also quite active in recruiting others online. In a post from August 2014, he posted several pictures of himself taking a dip in a pool as proof of the "good life" in Jihad.
"Yes, there isn't just war in the Levant. It's not the dream swimming pools, but when it's 50 degrees outside, I am not going to refuse haha," he posted in a caption of the photos.