New Zealand paceman Chris Martin retires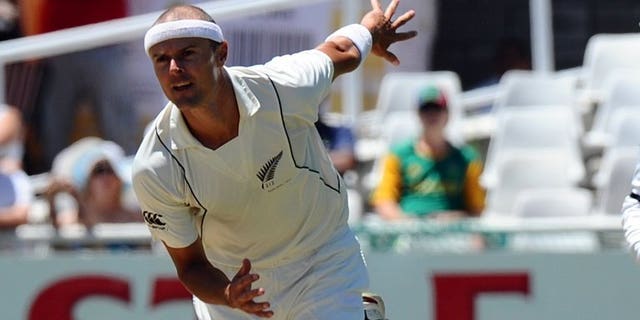 WELLINGTON (AFP) – New Zealand paceman Chris Martin announced his retirement Wednesday, bowing out as the third highest Test wicket-taker in Black Caps' history.
Martin played 71 Tests for New Zealand over an international career spanning more than 12 years, claiming 233 wickets at an average of 33.81.
The 38-year-old, who played his last Test in January and has fallen down the pecking order as a new generation of fast bowlers emerge, said he had enjoyed every moment with the Black Caps.
"It feels like the right time to step down," he said.
New Zealand Cricket chief executive David White said Martin had made an outstanding contribution to the Black Caps.
"During his career, Chris has formed a reputation as one of the most consistent performers in world cricket, something which can be put down to his relentless work ethic," he said.
While lauded for his bowling, Martin was also a fan favourite for his plucky, if inept, efforts with the bat, averaging 2.36 with a high score of 12 over his Test career.
He is second only to Courtney Walsh in the number of Test ducks recorded, notching 36 to the West Indian's 43 -- although Walsh did play almost twice the number of matches.