New video of 2014 shooting involving LA County deputies shows murder, family says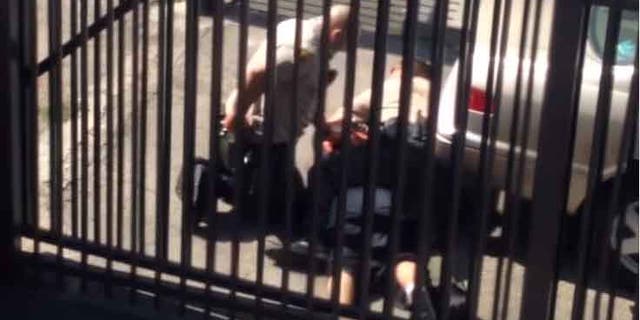 A 20-month-old shooting involving two Los Angeles County sheriff's deputies has come back into the spotlight after a cellphone video surfaced mysteriously last week showing the victim may have been executed with three point-blank shots in the back — while lying on the ground handcuffed.
Noel Aguilar, 23, was riding his bike in Long Beach on May 26, 2014, when he was stopped by deputies Jose Ruiz and Albert Murad, reportedly because he was wearing headphones. According to published reports, Aguilar tried to escape but was eventually caught and pinned down by the officers.
The new footage shows the deputies wrestling with Aguilar while handcuffing him, followed by a gunshot apparently fired by Officer Ruiz. According to ABC News, the district attorney's investigation determined that the deputy intended to shoot at Aguilar after wrestling a gun away from Aguilar, but shot at his partner instead, injuring him in the abdomen.
"I've been shot!" Officer Murad is heard screaming on the video, before pulling out his own gun and firing three shots point-blank at Aguilar, who had remained on the ground and could be heard saying, "I didn't shoot nobody!"
WARNING: GRAPHIC CONTENT, STRONG LANGUAGE
"He was a person with such a nice heart. He would always help people," Aguilar's fiancée, Mary Herrera, who was pregnant with their now 1-year-old daughter at the time of the shooting, told ABC News.
"He wasn't committing any crime. He was complying with them. He wasn't posing any threat to them," Herrera said. "It just breaks my heart to see that [video] and one day my daughter is going to have to see that," she told NBC Los Angeles.
Both Murad and Ruiz were put back on duty back later in 2014.
The recording was dropped off two months ago at the office of the family's attorney, Humberto Guizar, who has now filed a suit against the Los Angeles County Sheriff's Department and turned the video over to the city's district attorney and the FBI.
Guizar said he is demanding a new investigation that he expects will eventually lead to a criminal prosecution of both deputies.
"We are saying this is a murder, and we demand justice," Guizar told ABC News on Friday, when he made the graphic 8-minute video apparently shot by a passerby public.
"You don't shoot a person with their hands in front of them if you don't see a gun in their hand," he said.
Meanwhile, the department's Internal Affairs Bureau has completed its investigation, and its findings will be presented to the Executive Force Review Committee in January, the Daily Mail indicated.
The investigation reportedly found that Aguilar was under the influence of drugs and continued to struggle even after being shot.