New US sanctions are 'breach' of nuclear deal, Iran says
Iran on Thursday reiterated its assertion that new U.S. sanctions against the Muslim country constitute a "breach" of the 2015 nuclear deal between Iran and Western powers.
Abbas Araghchi, Iran's deputy foreign minister and senior nuclear negotiator, repeated the Tehran government's claim Thursday on the website of Iranian state television.
He warned that Iran will come up with a "smart" reaction to the sanctions approved by President Donald Trump and avoid getting "entangled in U.S. policies."
Iran has prepared a list of 16 measures to take against the U.S. action, Araghchi said. He did not elaborate, but said the measures included steps to "improve" Iran's armed forces.
The U.S. sanctions impose penalties on people involved in Iran's ballistic missile program, enforce an arms embargo and apply terrorism sanctions to Iran's powerful Revolutionary Guard.
Meanwhile, the Trump administration is pushing for inspections of suspicious Iranian military sites in a bid to test the strength of the nuclear deal that President Donald Trump desperately wants to cancel, senior U.S. officials said last week.
The inspections are one element of what is designed to be a more aggressive approach to preventing Iran from obtaining a nuclear weapon.
While the Trump administration seeks to police the existing deal more strictly, it is also working to fix what Trump's aides have called "serious flaws" in the landmark deal that, if not resolved quickly, will likely lead Trump to pull out.
However, Reuters reported Tuesday that U.S. Secretary of State Rex Tillerson and President Trump disagree on the Iran deal and how it can be used to advance administration policies.
Trump told the Wall Street Journal in July that he believed Iran would be judged "noncompliant" with the Iran deal, at the next deadline in October.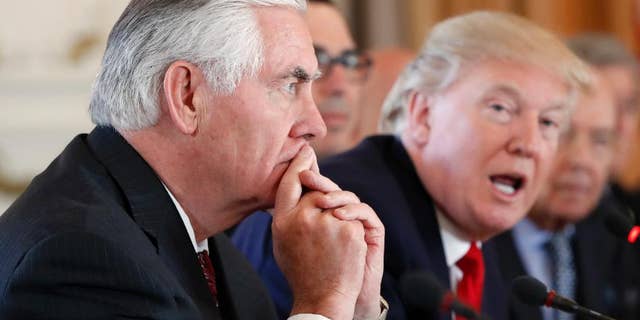 But Tillerson expressed a more nuanced view of the situation, suggesting that remaining in the deal could help the U.S. maintain leverage over Iran.
"There are a lot of alternative means with which we use the agreement to advance our policies and the relationship with Iran, and that's what the conversation generally is around with the president as well," Tillerson said.
Tillerson added that it was important to coordinate with the other countries in the agreement as well.
"The greatest pressure we can put to bear on Iran to change the behavior is a collective pressure," Tillerson said.
This story includes reporting from the Associated Press.