New Syria opposition chief veteran dissident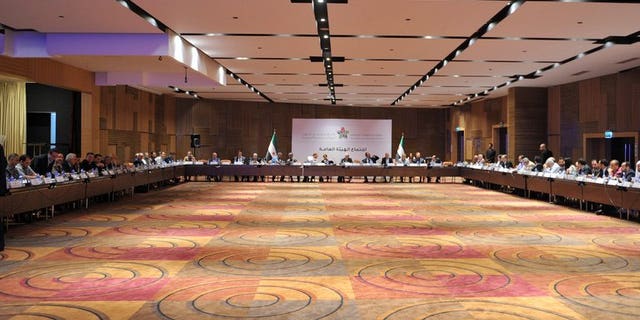 NEWYou can now listen to Fox News articles!
BEIRUT (AFP) – Ahmad Assi Jarba, chosen Saturday as leader of the opposition Syrian National Coalition, is a tribal chief and veteran dissident who fled abroad in August 2012 after being released from a second stint in the regime's jails.
Jarba set up his base in exile in Saudi Arabia, where his Shammar tribe has fellow clansmen, and developed close connections with the Riyadh government which threw its support behind his selection as opposition leader.
But he defeated the bloc's secretary general Mustafa al-Sabbagh, seen as close to the opposition's other main Gulf Arab backer Qatar, by just 55 votes to 52 in a ballot of party officials, and faces a tough challenge healing the deep divisions in opposition ranks.
The opposition had been rudderless since the departure in May of Ahmad Moaz al-Khatib in protest at the world's "inaction" over Syria's civil war.
Born in northeastern city of Qamishli, on the border with Turkey, in 1969, Jarba studied law at the University of Beirut.
In the late 1990s, he spent several years in prison for opposition activities against then president Hafez al-Assad, incumbent Bashar al-Assad's father.
He was detained again in March 2011, just days after the uprising broke out against Assad junior's rule.
After fleeing to Saudi Arabia, he joined the opposition Syrian National Council and then joined the broader National Coalition when it was formed in November 2012.
Initially heading the Coalition's relief work among Syrian refugees, Jarba was then put in charge of its efforts to get arms to the rebel Free Syrian Army.
In that capacity, he headed delegations to a number of Arab and European countries.
Jarba was an outspoken critic of the appointment as rebel prime minister in March this year of Ghassan Hitto, who is seen as close to the Muslim Brotherhood and to Qatar.
He joined other critics in staging a brief walkout from the Coalition.
Jarba is part of the faction of secular dissident Michel Kilo, who also has close ties with Saudi Arabia.
In his work he is often seen in Western-style suit and tie, but several of his authorised photographs show him wearing the flowing robe or abaya of the Arab tribes.