New drone strike in Yemen kills 55 Al Qaeda militants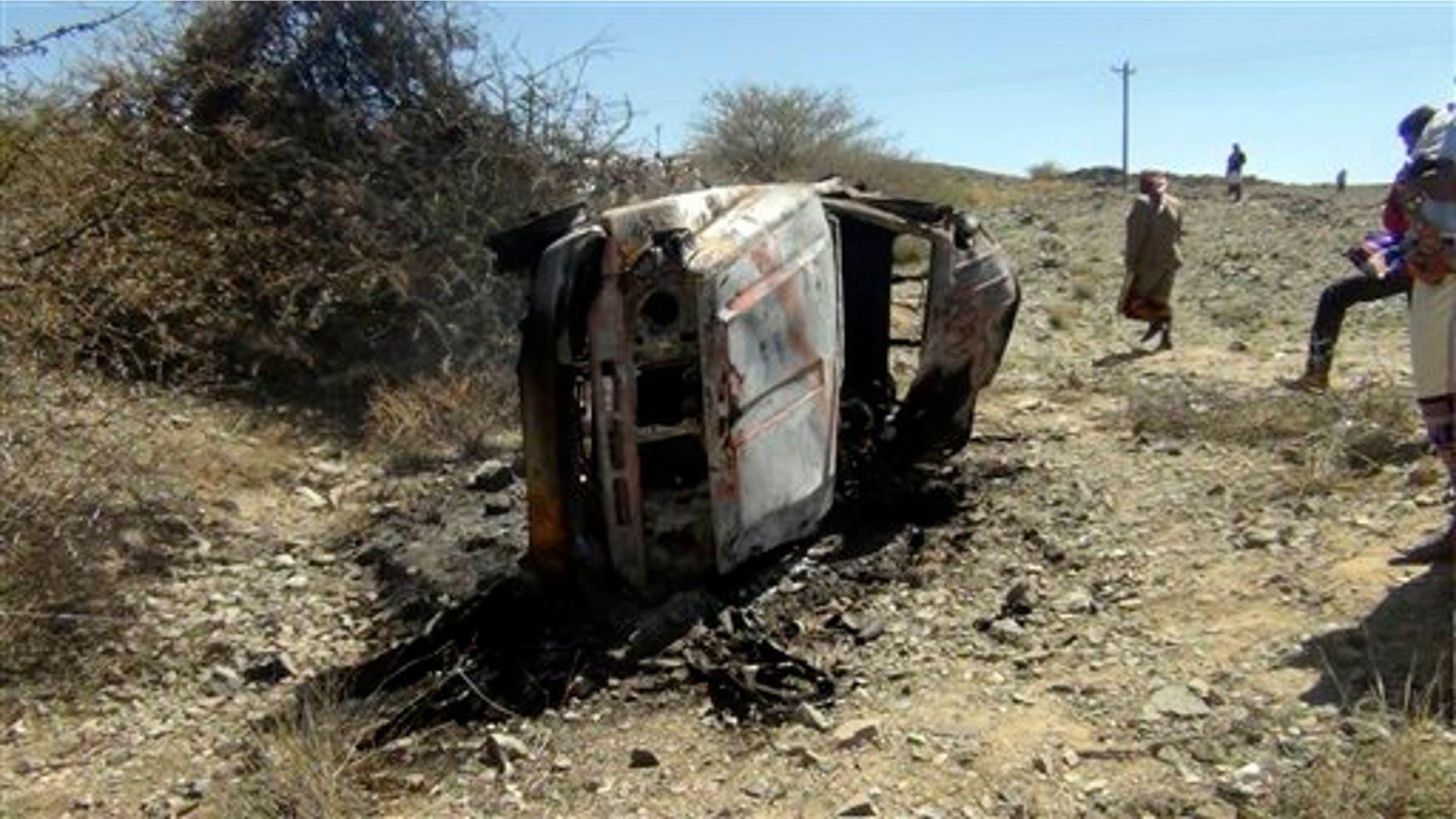 A suspected U.S. drone strike in southern Yemen killed 55 militants Monday, in the third deadly attack on an Al Qaeda training camp in the area in several days.
Yemen's interior ministry says among those killed in an hours-long campaign of strikes on the camp in the rugged mountains of Mahfad between Abyan, Shabwa and al-Bayda provinces were three senior members of Al Qaeda. The ministry said the identification process for those killed is ongoing.
The operation kicked off Sunday and is believed to have involved U.S. drones. Security officials said the camp's infrastructure was destroyed.
Unidentified Yemen tribal leaders earlier said one of the killed commanders was Munnaser al-Anbouri.
On Sunday, an airstrike also targeted suspected Al Qaeda training camps in the same mountain region in southern Yemen, killing a number of fighters, but a high-level government security committee could not provide a specific casualty figure.
The official Yemen news agency SABA quoted an unnamed official from the security committee who said those killed in Sunday's strike included foreigners and suspected leading figures in Al Qaeda.
Also Sunday, A Yemeni security official says 10 suspected Al Qaeda militants were arrested in Shabwa province.
On Saturday, a drone strike on a truck in the central province of Bayda killed three civilians and another 10 suspected militants, SABA reported. The Supreme Committee said Saturday's airstrike was carried by Yemeni authorities. The committee said the suspected Al Qaeda members were plotting to target vital military and civilian installations, without elaborating.
When asked about Monday's strike, Pentagon spokesman Col. Steve Warren said he couldn't speak to specific operations. "But as you know we have a very strong and collaborative relationship with the Yemeni government. We work closely with them on various initiatives in the counterterrorism realm, but I don't have any specifics to comment on," Warren said.
A statement from the Yemeni government quoted President Abdo Rabbu Mansour Hadi hailing the raids as successful Monday. ""The operation delivers a strong message to the criminal and terror operatives that the armed forces and security personnel are ready to foil and thwart terrorist acts in any time and place," said Hadi in a statement published by the Presidential Office. "The operation highlights the professionalism, efficiency and combat readiness of the CTU (Counter Terrorism Unit.)"
The U.S. considers Yemen's branch of Al Qaeda, also known as Al Qaeda in the Arabian Peninsula, to be the most dangerous in the world. The group is blamed for a number of unsuccessful bomb plots aimed at Americans, including an attempt to bring down a U.S.-bound airliner with explosive hidden in the bomber's underwear and a second plot to send mail bombs hidden in the toner cartridges on planes headed to the U.S.
It overran much of Yemen's south in 2011. Yemen's army, supported by U.S. military experts and drone strikes, has pushed them back, but clashes and Al Qaeda attacks in Yemen continue.
However, civilian casualties in the strikes have sparked anger in the country and among human rights groups. According to the nonpartisan public policy institute New America Foundation, the U.S. has launched more than 100 drone strikes in Yemen since 2002.
The Associated Press contributed to this report.