New Darfur mission chief says peace cannot be imposed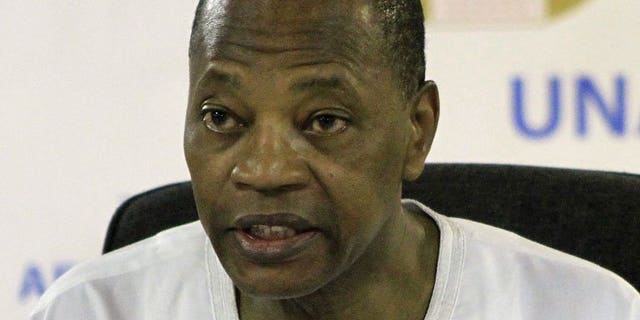 EL FASHER, Sudan (AFP) – Violence is surging in Sudan's Darfur but peace cannot be imposed by force, the new head of the African Union-UN mission to the region said in an interview with AFP.
Mohamed Ibn Chambas was responding to criticism that the United Nations African Union Mission in Darfur -- one of the largest peacekeeping operations in the world -- is not aggressive enough in fulfilling its mandate to protect civilians.
Chambas, a Ghanaian who on April 1 took over as head of about 20,000 UNAMID military and police officers, said the focus is instead on helping to secure a negotiated end to 10 years of rebellion in the region.
UNAMID was set up in 2007 under Chapter VII of the United Nations Charter, which allows for the use of armed force.
"The mission, frankly, is not deployed in the posture of a Chapter VII," Chambas said in his office at UNAMID headquarters.
"In Chapter VII you have to have elements that are ready to go into combat, with support helicopters and the wherewithal to engage".
There also has to be "a clear mandate to be able to go after the spoilers," for instance the rebel movements who have not signed a two-year-old peace deal with the government.
"There's not a consensus on operating in that manner," said the softly-spoken Chambas, a former president of ECOWAS, the Economic Community of West African States.
"The emphasis is still on negotiation and dialogue, and getting an all-inclusive comprehensive peace agreement."
Khartoum signed the internationally-backed 2011 peace deal in the Qatari capital Doha with an alliance of rebel splinter factions.
The main insurgents, the Justice and Equality Movement (JEM) and the Sudan Liberation Army (SLA), rejected the deal.
Abdel Wahid Mohammed al-Nur, who heads a faction of the SLA, said UNAMID is "not able to protect civilians."
A diverse group of other critics including Darfur's top official, Eltigani Seisi, have also expressed concerns about UNAMID's ability to safeguard the population.
In April, a breakaway JEM faction joined the peace process but its leaders were later killed by the main JEM, an international commission monitoring the Doha deal has charged.
The killings added fuel to an already-deteriorating security situation in Darfur, Chambas said.
There has been "an upsurge of violence", partly rebel-government clashes but mainly inter-ethnic fighting "which really has been the major source of violence, fatalities and displacement of civilian population."
The violence forced an estimated 300,000 people in Darfur to flee this year. That is more than in the last two years combined, the UN says, adding to the 1.4 million already displaced in the region.
UNAMID is tasked with protecting civilians and ensuring safe and unhindered humanitarian access to them.
The mission now finds itself having to protect a larger number of people with fewer peacekeepers and "shrinking budgets" for humanitarian aid, Chambas said.
The UN Security Council decided last year to cut UNAMID's authorised military and police strength by about 5,000 and to re-focus on areas of Darfur where threats to civilians are greatest.
"We have to do more with less," said Chambas, wearing a traditional Ghanaian collarless robe.
UN experts, human rights activists and tribal leaders have accused government security forces of involvement in the tribal fighting that has hit the region this year.
But Chambas said the nature of the disputes -- mainly competition for land, water and mineral rights -- made it hard to tell who was on which side as police and militia also had ethnic affiliations.
"In these kinds of conflicts, if they do get involved, is it on account of government sponsorship or people just expressing ethnic solidarities? It's a little difficult to tell," he said.
Darfur's remaining rebels belong to an alliance with insurgents from outside the region, in Sudan's South Kordofan and Blue Nile states, that aims to topple the Khartoum government.
Chambas hopes, however, that the worsening plight of civilians in Darfur will move the JEM and SLA to join a peace dialogue to address their original grievances.
They rose up seeking an end to what they saw as domination of Sudan's power and wealth by Arab elites.
"The experience of the 10 years has shown that option of a military struggle has not yielded desired results," Chambas said.
"On the contrary, it's making things harsher and worse off for the population of Darfur."