New cartel emerges in Mexico as government dismantles larger drug gangs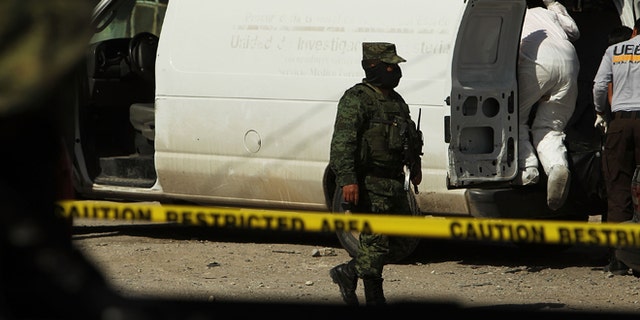 A new cartel has emerged in the southern part of the state of Mexico – home to the country's capital – and has caused worry among federal officials already dealing with widespread violence and corruption stemming from drug traffickers.
Calling itself La Empresa (or the Company, in English), this new cartel is entering a region of the country that is currently seeing the reemergence of the once-powerful La Familia Michoacana cartel, Damian Canales Mena, Mexico state's public safety secretary, said in a press conference, according to El Universal.
As proof that La Empresa is spreading in the Mexican state, Canales Mena pointed to the recent violent death of Bulmaro "El Negro" Blas Salazar, a known drug trafficker, and a sign found from the group stating they won't tolerate kidnappings or thefts.
Canales Mena added that La Familia Michoacana has also recently been trying to regroup in the state. Four men arrested in that area were recently caught with four packages of money allegedly to be used to pay for people to rejoin La Familia Michoacana.
The emergence of La Empresa and the regrouping of La Familia Michoacana follow the trend in recent years of smaller, more localized drug trafficking operations in Mexico. These groups have become one of the main threats to the Mexican public as the government continues to dismantle the major cartels – either by arresting or killing the groups' major players.
Possibly realizing the national and international pressure that operating a transnational drug cartel brings; the newer, smaller gangs instead have eschewed the drug trade in favor of extortion, theft and abductions – crimes that make them a ton of money and reward them with new territory, but also forces constant acts of violence to keep them visible and in control.
Shannon O'Neil, senior fellow for Latin America Studies at the Council on Foreign Relations, said the focus on dismantling drug cartels has been helpful because it has created a power vacuum among the cartels.
But, she said, it has also forced many to turn to other crimes – like extortion, robbery and kidnappings "that prey more directly in the Mexican population."
"Without a stronger rule of law, Mexico struggles to combat these groups and proliferation in crime," she said.
What is happening in Mexico somewhat mirrors what occurred in Colombia during the mid-1990s and early 2000s following the death of drug lord Pablo Escobar and the downfall of the Medellín and Cali cartels. In Medellín, for example, the power vacuum left when the cartel eroded created a number of small scale gangs that battled each other for control of various barrios – driving up homicide rates to obscene levels and creating virtual no-man's lands in parts of the central Colombian city.
While some experts agree with this comparison, others say that the situation in Mexico is different given President Enrique Peña Nieto's apparent unwillingness to do anything about the violence in places like the state of Mexico and Guerrero, where 43 college students disappeared back in September.
The country's outbursts of violence threaten to erase Peña Nieto's efforts to convince the world that Mexico has put the worst behind it.
"I think we are going through some difficult moments," Presidential spokesman Eduardo Sánchez said. "I am sure we'll get through this, and that something positive has to come out of this all."