New Bank of England boss faces stimulus battle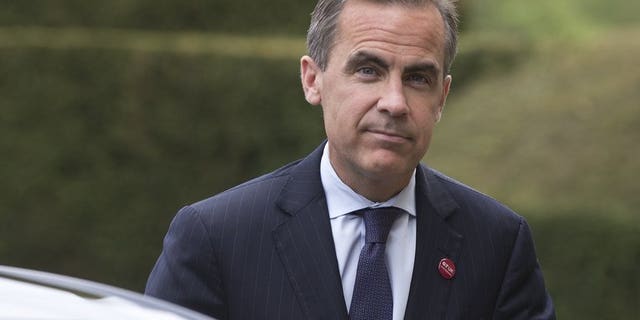 LONDON (AFP) – Canadian Mark Carney begins his job as governor of the Bank of England on Monday, joining an institution divided on whether to pump out more cash stimulus to boost Britain's fragile economic recovery.
Carney, who made his name as head of the Bank of Canada where he helped to guide the nation's economy through the global financial crisis relatively unscathed, is replacing Mervyn King who led the BoE since 2003.
The 48-year-old Canadian is the first foreigner to lead the Bank of England since it was founded in 1694, and takes charge after the central bank was recently granted new regulatory powers over Britain's troubled commercial banking sector.
"Mervyn King is handing over a battle-weary UK economy to Mr Carney," said Kathleen Brooks, research director at trading website Forex.com.
"King did the best he could in tricky circumstances, but the markets expect Carney to deliver and help boost the economy. If he does not, then he could find his impeccable reputation as a central banker starts to fade."
Carney will participate in his first Monetary Policy Committee (MPC) meeting on Thursday, when the bank is widely expected to maintain rates and level of stimulus.
Under King, the BoE slashed its main lending rate to 0.50 percent, a record-low level for the central bank and where it has stood since March 2009.
Also since that time, it has pumped out ??375 billion ($589 billion, 434 billion euros) of new cash into the economy under quantitative easing.
Under QE, the Bank of England creates cash that is used to purchase assets such as government and corporate bonds with the aim of increasing lending by retail banks to boost economic activity.
The bank's main task however is to keep 12-month British inflation close to a government-set target of 2.0 percent.
Carney has suggested that economic output might be a better measure for the central bank, with British inflation struggling during King's watch to stay consistently close to the target.
James Humphreys, investment manager at Duncan Lawrie Private Bank, said Carney faced a tough task over stimulus policy.
"Market expectations around Carney's arrival are very high... In reality the options available to him are limited as he is only one of nine members" of the MPC.
Quantitative easing helps to keep interest rates low but many analysts argue that it also pushes up inflation.
King had called for more 'easy-money' at his final meeting in June but was out-voted by fellow policymakers for the fifth month in a row.
Two other MPC members have also been calling for more stimulus, while analysts believe others could join the ranks at upcoming meetings owing to Britain's tepid economic growth.
Uncertainty also surrounds the future stimulus outlook for the United States after a Federal Reserve official on Thursday moved to soothe fears that the US central bank would wind up its QE programme too soon.
"Bank of England officials are already dropping heavy hints and indications to the market that an end to QE and higher interest rates are a long way off in the UK, even if US monetary policy changes," cautioned Humphreys.
Carney, who intends to take up British citizenship and is married to a British wife, was born in Fort Smith, Northwest Territories, Canada.
He has been criticised from some quarters over the size of his new remuneration, which stands at ??874,000 per year and includes an annual housing allowance of ??250,000.
Carney's predecessor King helped to steer Britain through its deepest recession and was at the centre of government decisions to bail-out stricken British lenders, notably the Royal Bank of Scotland and Lloyds, with vast sums of taxpayers' money.
Britain's economy expanded by 0.3 percent in the first quarter of 2013 and never experienced a double-dip recession as previously thought, official data showed last Thursday.
Nevertheless, the Office for National Statistics also revealed that the recession following the 2008 global financial crisis was far worse than previously thought.
"The recent revisions do little to change our view of the likely growth path ahead," noted Victoria Clarke, analyst at Investec financial group.
"However, the reassessment of economic history -- which paints a picture of the UK economy lagging further behind its pre-crisis peak -- may push the new BoE Governor Mark Carney, and his committee, further in the direction of adding more stimulus," she added.