Netanyahu links Holocaust to Iran's suspected nuclear ambitions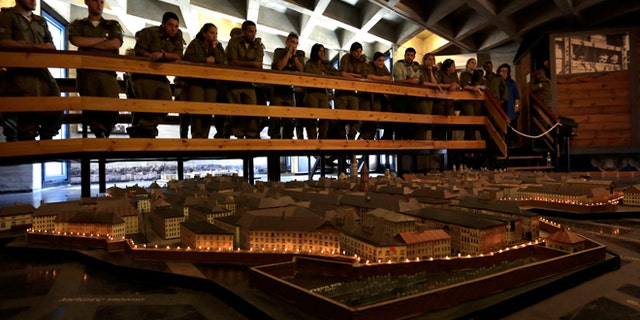 JERUSALEM – Israeli Prime Minister Benjamin Netanyahu opened the country's annual memorial day for the 6 million Jews killed in the Holocaust by issuing a stern warning Sunday to the world to learn the lessons of the past and prevent another Holocaust.
At the opening ceremony at the Yad Vashem Holocaust memorial, Netanyahu linked the Nazi genocide to Iran's suspected drive to acquire nuclear bombs and its leaders' repeated references to the destruction of Israel and its denial of the Holocaust. Netanyahu said that just like before World War II, there were those in the world today who refused to face uncomfortable truths.
"In this place I have said many times that we must identify an existential threat in time and act against it in time and tonight I ask 'why in the years before the Holocaust did most of the world's leaders not see the danger ahead of time?' In hindsight, all the signs were there," he said.
"Has the world learned a lesson from the mistakes of the past? Today we are again faced with clear facts and before a real danger. Iran calls for our destruction, it develops nuclear weapons."
The stated links between the Holocaust and Iran showed how more than six decades later, the mass murder of Jews during World War II is still a central part of Israel's psyche. The nation was created just three years after the end of the war, and hundreds of thousands of dazed survivors made their way to Israel.
Six million Jews were killed by German Nazis and their collaborators in the Holocaust, wiping out a third of world Jewry. Today, fewer than 200,000 elderly survivors remain in Israel.
The annual memorial day is one of the most solemn on Israel's calendar. Restaurants, cafes and places of entertainment are shut down, and radio and TV programming are dedicated almost exclusively to documentaries about the Holocaust, interviews with survivors and somber music.
On Monday morning, Israel will come to a standstill as sirens wail for two minutes. Pedestrians typically stop in their tracks, and cars and buses halt on the streets while drivers and passengers stand with their heads bowed.
Further ceremonies include the public reading of names of Holocaust victims at sites around the country, including Israel's parliament. Schoolchildren dress in white and stop their studies to hold memorial ceremonies.
Sunday night's main ceremony at Yad Vashem included six survivors who lit six symbolic torches to commemorate the 6 million dead. A video segment on each one's personal story was presented.
The Israeli flag flew at half-staff and a military honor guard stood at one side of the podium as poems and psalms were read and the Jewish prayer for the dead was recited.
Hours before the opening ceremony, an annual report by Tel Aviv University on worldwide anti-Semitism said violent attacks against Jews worldwide dropped in 2013, but anti-Semitism was becoming more widespread in Europe amid a rise in popularity of extremist parties
Moshe Kantor, president of the European Jewish Congress, an umbrella group representing Jewish communities across Europe, expressed concern over the increasing popularity of far-right parties, especially in France, Hungary and Greece, where they are expected to make big gains in European Parliament elections next month.
He also mentioned the situation in Ukraine, where Jews are caught in the middle of the conflict between nationalists and Russian separatists, with both sides using anti-Jewish rhetoric while accusing each other of harboring anti-Semitic supporters.
In his comments, Israeli President Shimon Peres spoke of his own family's destruction in the Holocaust and said Israel was the deterrence against another one happening.
"We must not ignore any occurrence of anti-Semitism, any desecration of a synagogue, any tombstone smashed in a cemetery in which our families are buried. We must not ignore the rise of extreme right-wing parties with neo-Nazi tendencies who are a danger to each of us and a threat to every nation," he said.
"A strong Israel is our response to the horrors of anti-Semitism but it does not excuse the rest of the world from its responsibility to prevent this disease from returning to their own homes."