Netanyahu, Israel mark Memorial Day with moment of silence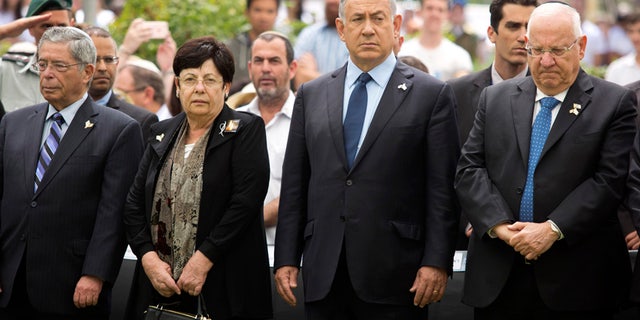 Israelis came to a two-minute standstill Wednesday to remember fallen soldiers and victims of terror as the country marked Memorial Day, one of the most somber days on the Israeli calendar.
A siren rang out at 11 a.m. as drivers pulled over on the sides of highways and roads and pedestrians stopped in their tracks.
Israelis attended remembrance ceremonies across the country. Radio and television networks broadcast programs about battle and loss.
"We, the members of bereaved families, don't need Memorial Day to remember our beloved ones," Prime Minister Benjamin Netanyahu said during a gathering at the Mount Herzl Military Cemetery in Jerusalem.
"But on this day, Memorial Day, the entire nation is with us, embracing us with love," he added.
Netanyahu also praised policewoman Hadar Cohen, who was killed in February amid the recent wave of stabbings, The Times of Israel reported. Netanyahu said days after her death, an Israeli family chose to name their baby after Cohen.
"In Israel, boys and girls are named for the defenders of our people," he said.
The solemn atmosphere was set to end abruptly at sundown with the start of Independence Day celebrations.
This Memorial Day comes as Israel faces an eight-month-long wave of Palestinian violence that has killed 28 Israelis. About 200 Palestinians have been killed. Israel says most of them have been attackers. The rest died in fighting with Israeli troops.
The Associated Press contributed to this report.