Netanyahu does chicken dance with Netta Barzilai to celebrate Israeli singer's Eurovision win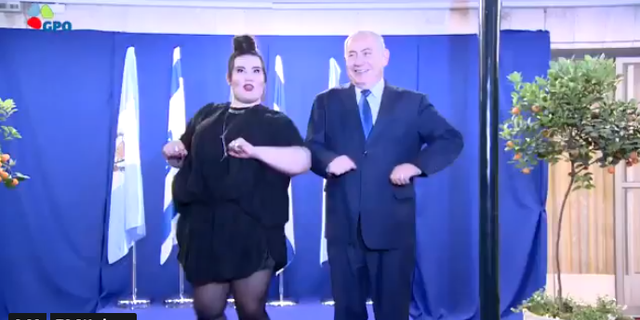 Israeli Prime Minister Benjamin Netanyahu showed off his chicken dance skills with Israeli singer Netta Barzilai in celebration of her recent Eurovision Song Contest victory. Netanyahu tweeted a video of himself and Barzilai flapping their arms in unison Wednesday.
Israel came out on top out of 25 other competing countries, which participated in the "Grand Final" of the competition held in Lisbon.
Barzilai snagged first prize with her song "Toy," which fans dubbed the "chicken song" due to the singer's wild dance moves and clucking noises she made throughout the performance. It was meant to be a nod to the #MeToo movement, according to The Times of Israel.
"Thank you so much for choosing different. Thank you so much for accepting differences between us. Thank you for celebrating diversity. Thank you. I love my country!" Barzilai told screaming fans while accepting her trophy on May 12.
Netanyahu got a kick out of the colorful act, tweeting his support for the singer.
"Netta, you're a real sweetheart. You have brought much respect for the state of Israel! Next year in Jerusalem!" Netanyahu wrote in a tweet, noting that Israel will be hosting the contest next year.
The next day, Netanyahu was caught on camera imitating Barzilai's moves on his way to a cabinet meeting. The prime minister paused, moved his arms up and down and flashed a smile before walking away from reporters.
He later opened his meeting with the phrase "boker toy," instead of his usual "boker tov" (good morning), The Times of Israel added.
"These days, Jerusalem is blessed with many gifts," Netanyahu said Sunday, according to the Israeli newspaper. "We received another one yesterday evening, with Netta's suspenseful and shining victory. The gift was that Eurovision will be coming to Jerusalem next year, and we are proud to be hosting it."
Netanyahu greeted Barzilai in person Wednesday, shaking her hand and congratulating her on the catchy tune. The pair even performed a small part of the epic dance together, which Netanyahu shared on Twitter with a chicken emoji and the Israeli flag.