Netanyahu confronts Putin over Iran's actions in Syria, Lebanon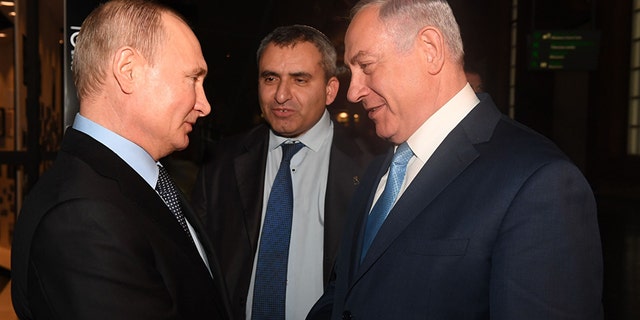 NEWYou can now listen to Fox News articles!
Israeli Prime Minister Benjamin Netanyahu and Russian President Vladimir Putin met Monday in Moscow.
The two leaders were meeting at the Jewish Museum and Tolerance Center in Moscow, where together they toured a new exhibit on the Sobibór extermination camp.
As they headed into their meeting, Netanyahu said: "I think that the main lesson of the rise of the Nazis and then the defeat of the Nazis is that we have to face murderous ideologies in time and with power."
For his part, in welcoming his Israeli counterpart, Putin also remembered the Holocaust and the sacrifices made by Russian Jews in taking down the Nazi regime. "As you know, in our country, there were many victims in almost every family. Among the Jews murdered by the Nazis, there were many citizens of the Soviet Union [and] Russia. They were the ones who made a big sacrifice for victory over the Nazis."
Putin called the meeting "very symbolic, because these days the entire world is remembering the victims of the Holocaust."
"We will take this opportunity to talk about our bilateral relations and to discuss the situation in the region," Putin said.
This is the seventh meeting between the two leaders since Russian forces have been involved in Syria's civil war.
Netanyahu said that Iran was trying "to turn Lebanon into one big missile site, a site for manufacturing precision missiles against the State of Israel. This is something we are not prepared to tolerate."
Netanyahu was accompanied by Minister Ze'ev Elkin, a member of the security cabinet who is considered to have close ties with Russian officials as well as National Security Adviser Meir Ben-Shabbat and outgoing Military Intelligence chief Maj. Gen. Herzl Halevi.
Israeli officials have expressed once again, as they have done in the past, that they retain the right to operate to prevent the smuggling of advanced weaponry to Hezbollah in Lebanon through Syrian territory.
The Israeli delegation also have inquired how Russia envisions its future involvement in the region, and to gauge how strongly it opposes the American effort to reopen the nuclear deal with Iran.