Netanyahu calls for UN probe of Gaza war to be scrapped after lead investigator quits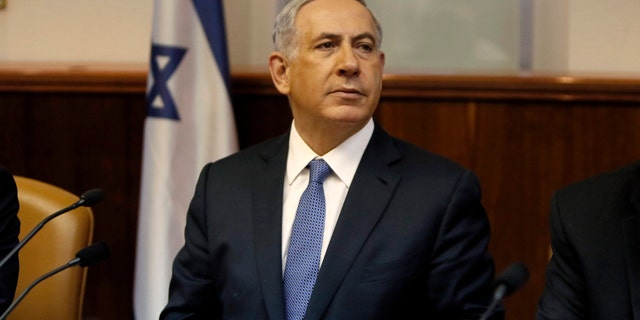 JERUSALEM – Israeli Prime Minister Benjamin Netanyahu on Tuesday called for scrapping a U.N. commission tasked with investigating potential war crimes committed last summer in Gaza after reports emerged that its chief resigned amid accusations he was biased against Israel.
Netanyahu said the commission, set up by the Geneva-based U.N. Human Rights Council, was an "anti-Israeli body" that has proved it has nothing to do with human rights.
The U.N. commission was due to issue its report next month. Israel did not cooperate with it, saying it was hostile to Israel and that its conclusions were known in advance.
The summer's war in Gaza, the third between Israel and Hamas since the group seized the seaside territory, killed more than 2,200 Palestinians and 72 people on the Israeli side. Preliminary United Nations figures claim that at least 1,483 Palestinian civilians were killed in the war. Israel has claimed that most Palestinians killed were members of Hamas.
The U.N. commission chief, Canadian law professor William Schabas, was reported earlier Tuesday to be stepping down as head of the inquiry. Schabas had been outspoken in his criticism of Israel and previously offered consulting services to the Palestinian Liberation Organization.
After Schabas' appointment last year, he said he wouldn't let his past criticism of Israeli leaders affect his ability to carry out the investigation.
Officials in Geneva could not immediately be reached for comment Tuesday.
Netanyahu has accused the U.N. commission of unfairly targeting Israel and ignoring abuses elsewhere.
"This is the same council that in 2014 made more decisions against Israel than against Iran, Syria and North Korea combined," Netanyahu said, adding that Gaza's Hamas rulers "need to be investigated, not Israel."
Foreign Minister Avigdor Lieberman said he didn't expect Schabas' resignation to affect the final report but credited Israeli diplomacy efforts nonetheless with bringing about the resignation.
"Even the biggest hypocrites in the international bodies cannot ignore that having Shabbas investigate Israel is like having Cain investigate who murdered Abel," Lieberman added.
Palestinian official Hanan Ashrawi said the Israeli officials remarks were "typical Israeli tactics."
"They try to intimidate, they try to slander, they try to discredit, they make it extremely difficult for anybody to take any position that would hold Israel accountable or investigating Israeli violations or Israeli war crimes," she said.