Nebraska issues 1,300 licenses to young immigrants who came to the U.S. illegally as children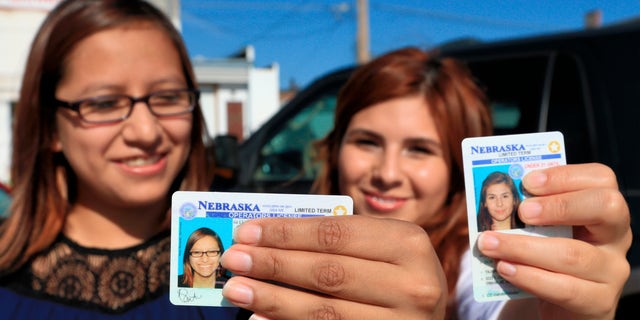 LINCOLN, Neb. (AP) – Nebraska has issued 1,300 driver's licenses to youths who were brought into the country illegally since the state became the last in the nation to let them apply.
Lawmakers voted May 28 to end the state ban on driving privileges for those who were allowed to stay in the U.S. under the federal deferred-action program. The law took effect the next day, and the Nebraska Department of Motor Vehicles immediately saw between 50 and 70 applicants per day, Director Rhonda Lahm said. She didn't know whether the daily numbers have declined.
Nearly half of the applicants came from the state's two largest counties, according to the Nebraska Department of Motor Vehicles, which issued 427 licenses in Douglas County, including Omaha, and 133 in Lincoln and surrounding Lancaster County. The third-largest number of licenses issued was in Hall County, including Grand Island, with 123.
One such recipient is Yajaira Gonzalez, a 20-year-old whose parents brought her to Omaha from Mexico shortly before her 9th birthday.
"It felt like I could be part of the society I've always grown up in," she said of obtaining the license just days after the law went into effect.
The University of Nebraska Omaha junior had relied on her father to drive her to school and work, at a time when he was working 13-hour days. Now, Gonzalez said she routinely helps drive her younger sister to a babysitter and takes her mother grocery shopping.
The deferred-action policy, announced by President Barack Obama in 2012, gives certain youths a Social Security number, a two-year work permit and protection from deportation. Although a few states initially announced they'd deny licenses to those youths, only Arizona and Nebraska ultimately adopted such policies and a court blocked Arizona's law.
Lawmakers overrode a veto 34-10 from Republican Gov. Pete Ricketts, who had backed the administrative policy enacted by former Gov. Dave Heineman. Ricketts said in his veto letter that those who arrived in the country illegally shouldn't receive privileges intended for legal residents.
But senators countered that many of the teens actively contribute to the state economy and shouldn't face punishment for their parents' actions. The law also had support from agricultural and business groups and prominent state Republicans, such as Omaha Mayor Jean Stothert.
Advocates say allowing the youths to get licensed helped put Nebraska in line with the rest of the country.
"For so many of these kids, this is the only country they've ever known," said Charles Shane Ellison, deputy executive director of the Omaha-based Justice for our Neighbors. "The passage of this law has made a huge difference for them. There's a sense that you're part of the community."
Getting a license made it easier for Fatima Flores-Lagunas, 24, to get to doctor's appointments and to buy medicine for her allergies. Before that, the University of Nebraska Omaha junior said she struggled to do simple things like rent a table for her sister's baby shower.
"It's more than just a piece of plastic," she said. "It's your identity."
The state previously granted licenses to other kinds of deferred-action recipients, Ellison said, such as those who were abused by their parents, children or spouses.
The Nebraska DMV estimated in March that the measure would generate about $38,000 for the state and counties combined if 2,300 deferred-action recipients were to apply.
Lahm said it's too difficult to calculate the exact revenue between May 29 and Aug. 5, because some youths might have taken driving tests multiple times.
The deferred-action category applies to people who are at least 15 years old, arrived in the U.S. before their 16th birthday, were under 31 in 2012, have lived continuously in the U.S. since 2007 and are in school or working toward a degree.
The federal government had received nearly 3,300 requests for deferred-action status in Nebraska as of March 31, according to the most recent data from the U.S. Citizenship and Immigration Services. Of that number, 2,877 have been approved.
Like us on Facebook
Follow us on Twitter & Instagram