Nearly 60 dead in east Syria fighting: NGO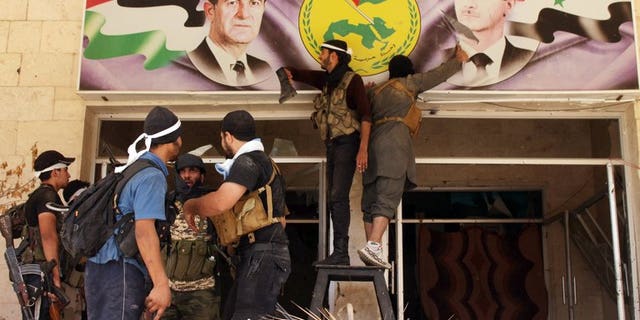 NEWYou can now listen to Fox News articles!
BEIRUT (AFP) – Nearly 60 Syrian soldiers and jihadists have been killed in three days of fighting in Deir Ezzor, the largest city in eastern Syria, where rebels have made advances, an NGO said Monday.
At least 33 fighters of the Al-Qaeda-affiliated Islamic State of Iraq and the Levant (ISIS) and Al-Nusra Front have been killed since Saturday, according to the Syria Observatory for Human Rights.
The group, which relies on a network of activists, doctors and lawyers on the ground, said 25 regime forces were also killed in the clashes.
"The clashes are very intense, the fighters are using several tanks they have, while the army is shelling pockets" of jihadists, Observatory director Rami Abdel Rahman told AFP.
The jihadist fighters are concentrating their efforts on the district of Huweika, home to several government buildings and security headquarters.
Syria's state news agency SANA said Monday the army had "killed terrorists in the Senaa neighbourhood and other terrorists were killed when a car they rigged with explosives detonated."
On Saturday, jihadists seized the local headquarters of the ruling Baath party in Deir Ezzor, prompting regime shelling.
"They (rebel fighters) have advanced in various districts, but without taking anything completely," said Abdel Rahman.
Control of the city remains divided between rebels, most of them jihadist fighters, and the regime. But the front line is in flux, according to the Britain-based Observatory.
Despite setbacks around the capital Damascus and in Homs province of central Syria, jihadist rebel fighters have made advances in Deir Ezzor and the coastal province of Latakia.