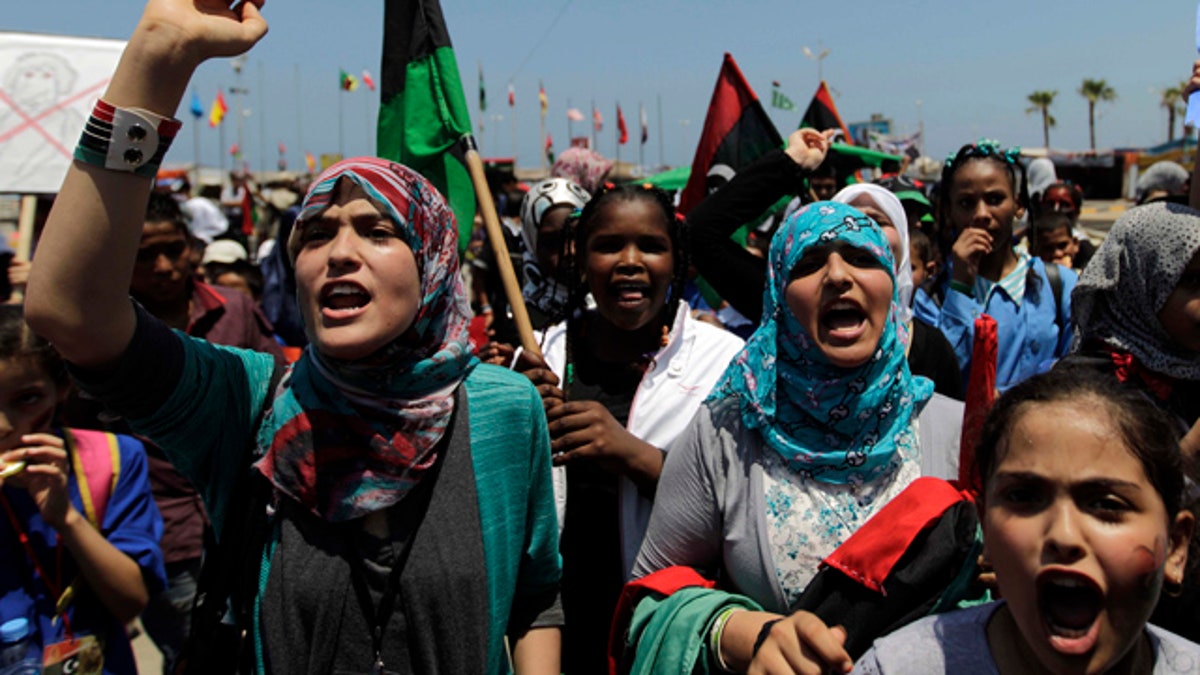 TRIPOLI, Libya -- NATO said Saturday it has begun ramping up its airstrikes on military targets in the western part of Libya, where rebel forces claim a string of advances through territory still largely under Muammar al-Qaddafi's control.
Qaddafi's regime is determined to stand firm against opposition fighters moving from southern and eastern fronts toward the capital Tripoli. The rebels have largely solidified control over the eastern third of Libya but have struggled to push out of pockets they hold in the west.
In a boost for Qaddafi, meanwhile, the African Union called on member states to disregard an arrest warrant issued by the International Criminal Court against the Libyan leader. This could enable Qaddafi to travel freely on the continent. The warrant was issued for his alleged role in a brutal crackdown on anti-government protesters earlier this year.
NATO's comments about its latest airstrikes suggest the alliance is hoping to tip the balance further in the rebels' favor despite threats by Qaddafi to carry out attacks in Europe unless the airstrikes stop.
The coalition said it has destroyed more than 50 military targets in the west this week. It says it is targeting government forces in cities and along "major lines of communication."
"We are engaging all military assets that are being used to indiscriminately target the civilian population throughout Libya," Lt. Gen. Charles Bouchard, commander of NATO's Libya mission, said in the statement sent Saturday but dated the previous day.
NATO said more than 1.8 million civilians are at risk from a buildup of forces loyal to Qaddafi in western cities along the coast and in the Nafusa mountain range southwest of the capital.
Rebels control several Nafusa mountain towns and the vital port city of Misrata. The rest of western Libya, including the heavily protected capital Tripoli, remain under Qaddafi's control.
Col. Ahmed Bani, a rebel spokesman, said Saturday that rebel fighters have pulled back in some parts of the west, in what he described as a "strategic retreat," but said they would go on the offensive again in the coming days. Asked about the NATO attacks in the area, he said they have been helpful to the rebels, but did not elaborate.
Bani told a news conference in the rebel-controlled eastern city of Benghazi that the rebels are not sending reinforcements to the west and that the fighters there don't need more weapons.
A coalition including France, Britain and the United States began striking Qaddafi's forces under a United Nations resolution to protect civilians on March 19, giving the rebels air support. NATO assumed control of the air campaign over Libya on March 31. It is joined by a number of Arab allies.
In recent days, NATO said it has repeatedly hit Tripoli and Gharyan, a city at the eastern gateway to the Nafusa mountains and on a major road to capital. Gharyan sits about 50 miles south of Tripoli.
It also claims to have struck a network of tunnels storing military equipment about 30 miles (50 kilometers) southeast of the capital.
NATO said in a separate statement it struck two armed vehicles Friday near Bir al-Ghanam, a town rebels from the mountains have been trying to take along a road leading toward the capital.
Qaddafi threatened Friday to target European "homes, offices, families" unless NATO halts its bombing campaign. His defiant audio address was played to thousands of supporters packed into Tripoli's main square during on of the biggest pro-government rallies since the airstrikes began.
It's not clear whether Qaddafi can make good on the threats.
In the past, the Libyan leader supported various militant groups, including the IRA and several Palestinian factions, while Libyan agents were blamed for attacks in Europe, including a Berlin disco bombing in 1986 and the downing of Pan Am Flight 103 over Lockerbie, Scotland, that killed 270 people, mostly Americans. Libya later acknowledged responsibility for Lockerbie.
In recent years, however, Qaddafi was believed to have severed his ties with extremist groups when he moved to reconcile with Europe and the United States.