NATO meeting to focus on security challenges outside Europe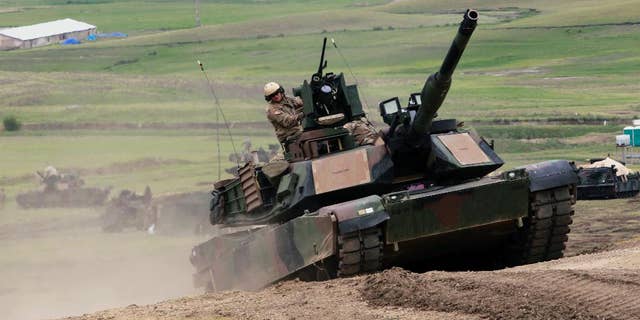 NEWYou can now listen to Fox News articles!
BRUSSELS – NATO foreign ministers this week will discuss how the alliance can deal more effectively with security threats outside Europe, including by training the Iraqi military and cooperating with the European Union to choke off people-smuggling operations in the central Mediterranean.
NATO Secretary-General Jens Stoltenberg said Wednesday a major focus of the ministers' meeting will be on "projecting stability beyond our borders," namely in the Middle East and North Africa.
The two-day session, to be attended by U.S. Secretary of State John Kerry and his counterparts from NATO'S 27 other member countries, begins Thursday at alliance headquarters in Brussels.
The wide-ranging agenda includes welcoming the Balkan nation of Montenegro as NATO's newest member-designate, and a dinner discussion on what policy to adopt toward a resurgent and increasingly bellicose Russia. But the centerpiece is likely to be discussions on how NATO should interact with what U.S. Ambassador Douglas Lute called "a whole set of weak, failing and failed states" to Europe's south and southeast.
Stoltenberg told a news conference the ministers will discuss a request from Iraqi Prime Minister Haider al-Abadi to expand or transfer a NATO military training program for Iraqi officers already underway in Jordan to Iraq itself. He said NATO is also considering stepping up aid to the U.S.-led coalition combating the Islamic State group in Iraq and Syria by supplying AWACS command and control aircraft.
"We're looking for niche capabilities that the alliance can add to reinforce or support the coalition," Lute told reporters later.
He said he also expected ministers to discuss what NATO can do to beef up the defenses of Libya's newly formed government, which faces a brutal insurgency mounted by an Islamic State affiliate. On Monday, the United States and other Western countries threw their support behind the U.N.-brokered government, saying they would supply it with weapons.
Lute said NATO has the ability to train, advise, and help build the military capabilities not only of Iraq, but of Jordan and Tunisia, countries he said are also under stress or located in "a dangerous neighborhood."
"By helping our partners strengthen their own forces, and secure their own countries" NATO members will enhance their own security, Stoltenberg said.
A Friday meeting of the NATO foreign ministers with European Union foreign policy chief Federica Mogherini and the foreign ministers of neutral EU members Sweden and Finland will consider how the two international organizations can pool efforts to address "unprecedented security challenges," Stoltenberg said.
Those challenges include hybrid warfare threats like disinformation campaigns, cyberattacks or maritime security risks and possible NATO cooperation with the EU's Frontex agency to detect and stop human trafficking and terrorist infiltration in the Mediterranean.
Ivo Daalder, former U.S. ambassador to NATO, said the alliance has been quick to react to the "threat from Russia" but "the bigger immediate challenge is to get the alliance engaged in actions focused on the threat from the south."
"NATO can do much more — from intelligence and surveillance of migrants and refugees to helping coordinate efforts to stabilize Libya to joining the coalition against ISIS (Islamic State)," Daalder said.