NATO leader in Afghanistan vows continued support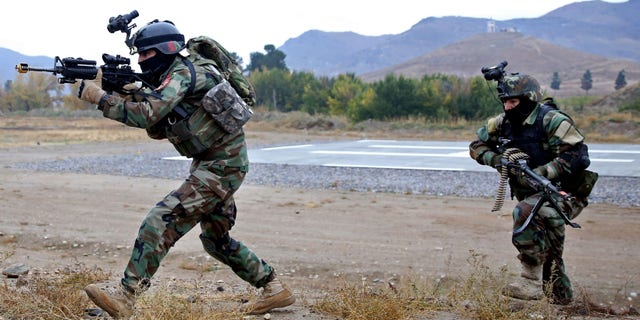 KABUL, Afghanistan – The head of NATO paid an unannounced visit to Kabul on Thursday, where he vowed that the Western alliance would continue supporting the country after foreign combat troops withdraw at the end of the year.
"We are ending the combat mission and are starting a new chapter in which the future of Afghanistan is in the hands if the Afghan people," NATO Secretary General Jens Stoltenberg said.
NATO has committed to continued funding for Afghan national forces of $4.1 billion annually and to an open-ended training and support mission to help the government combat a still-potent Taliban insurgency. Stoltenberg, who took over as the head of the alliance on Oct. 1, also visited a training center for Afghan special forces.
President Ashraf Ghani, who assumed office earlier this year following a protracted election dispute, accepted an invitation to attend a NATO ministerial meeting on Dec. 2. He said cooperation with the international community would focus on a wide range of non-security issues, including women's rights, governance and environmental protection.
"Give us a break," he said, referring to the challenges facing his one-month-old government.
NATO and the United States are withdrawing combat forces from Afghanistan at the end of the year, after 13 years of fighting the Taliban. A residual force of up to 12,000 U.S. and NATO forces will remain to provide training and backup for Afghanistan's 350,000 security forces.
The Taliban remain an imposing force in much of the country and continue to carry out near-daily attacks mainly targeting security forces. On Thursday police in the eastern Paktia province received the bodies of 10 civilians who had been shot dead, according to provincial police chief Gen. Zalmai Huryakhil. He said police did not know when or why the people were killed.
The bodies were brought to the police by local village elders because the security forces cannot operate in the area where the bodies were found.