NATO fine-tunes Afghan exit strategy at summit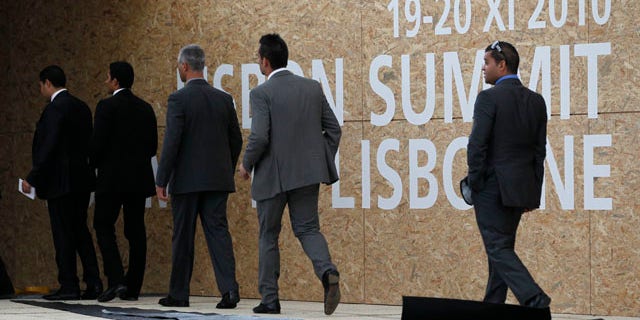 LISBON, Portugal – NATO is expected to set a 2014 target for handing over security to Afghans at a summit that starts here Friday, as the alliance's appetite for the conflict dwindles after nine years of fighting, growing European war angst, and renewed criticism by Afghan President Hamid Karzai.
The allies appear to agree the target year is realistic, but that hardly means the war is ending. The U.S. is wary of giving the impression that the original aim of invading Afghanistan in 2001 — to deny al-Qaida a base to launch more terrorist attacks on the West — will be achieved by then.
So NATO plans to pledge an enduring partnership with Afghanistan at the two-day Lisbon summit, while admitting past mistakes.
"I think that, seen retrospectively, we underestimated the challenge and our operation in Afghanistan didn't have sufficient resources, and yes, that was a mistake," NATO Secretary-General Anders Fogh Rasmussen told Portugal's Renascenca in comments broadcast Thursday as leaders of the 28 NATO member nations headed to Lisbon.
He added: "We'll make a positive announcement in Lisbon — that the handover is about to begin."
In an opinion column posted on the New York Times website Thursday, U.S. President Barack Obama described the 2014 target date as Karzai's goal, to be adopted by NATO. And he said the objective of NATO combat operations is to "break the Taliban's momentum," deprive insurgents of their strongholds and train more Afghan forces. He did not say the goal was to defeat the Taliban.
The escalating war has given the alliance its biggest challenge since it was formed 61 years ago. But victory is far from assured, and a hasty pullout would seriously undermine confidence in the alliance on both sides of the Atlantic.
Already, some key allies worry that military force is not the best way to put Afghanistan on a track to stability.
France's new defense minister, Alain Juppe, said this week that Afghanistan is a "trap" for allied troops, adding that French forces will not withdraw fully until "Afghan authorities have the situation in hand."
Some analysts see a grimmer scenario.
"Success in Afghanistan is almost impossible," said Shmuel Bar, a director at the Institute of Policy and Strategy in Herzliya, Israel. "If NATO is making its future contingent on victory in Afghanistan, they are not living in the real world. All they can expect to achieve are some limited aims, such as preventing the war from spilling over into Pakistan."
Karzai, scheduled to address Saturday's session, caused an international stir by demanding in a Washington Post interview last weekend that NATO reduce its military operations and stop what the military believes is a highly successful tactic — night raids conducted jointly with Afghan troops against suspected Taliban leaders.
The Lisbon meeting unfolds against the backdrop of Obama's internal review of the war strategy announced in December 2009, which included sending 30,000 extra U.S. troops to Afghanistan. Obama is expected to finish his review by year's end and face a new Congress in January that may scrutinize his war strategy more closely following the Democrats' loss of the House and setbacks in the Senate.
The NATO leaders are expected to endorse Karzai's proposal that Afghanistan take lead responsibility for security — and for the development of its government institutions and economic development — by the end of 2014. That would begin next year with an unspecified but small number of areas transferred to Afghan control.
The plan would allow NATO members to begin reducing their troop contingent of about 140,000, but the full timeline has yet to be determined. Obama has said he will start pulling out some of the approximately 100,000 U.S. troops there next July, but U.S. officials have said the number going home is likely to be small. Others are leaving sooner.
Canada said this week its 3,000 troops will end their combat mission next year, with 950 remaining to train Afghan troops, and Germany announced it will begin withdrawing in 2012. The Netherlands also is winding down its combat presence.
Pentagon press secretary Geoff Morrell said Thursday that 2014 is an "aspirational goal," not a deadline either for Afghan forces to take full control or for a complete withdrawal of U.S. forces.
"The goal is to have Afghan security forces in the lead over the preponderance of the country" by the end of 2014, but not necessarily throughout the country, Morrell said. "That would be the hope, that's what we would shoot for. It does not mean that all U.S. or coalition forces would necessarily be gone by that date. There may very well be the need for forces to remain in country albeit hopefully in smaller numbers."
In Britain, Prime Minister David Cameron insisted Thursday that British troops would quit their combat role in Afghanistan by 2015, whatever the security conditions or progress made in tackling insurgents.
The war is increasingly unpopular with voters in NATO nations, and alliance leaders worry about the political fallout unless they agree on a credible withdrawal timeline. As a result, they are expected to unanimously approve the transition plan.
Allied casualties in Afghanistan have reached record levels of about 650 dead so far this year, and the Taliban have spread into parts of the country where they were not active before. They retain sanctuaries across the border in Pakistan.
Marko Papic, a senior analyst at Stratfor, a global intelligence analysis firm, argues that the best the allies can now hope for is to bring the Taliban to the negotiating table.
"With terrorist groups such as the al-Qaida shifting to other locales, it is not even clear if the original goal of the war — to disable a transnational network of terrorists — still has any bearing on the U.S. and NATO presence in Afghanistan," he said.
___
Barry Hatton, Slobodan Lekic and Ana Paiva contributed to this report from Lisbon. Anne Gearan contributed from Washington.