NATO fears return of escalated violence in eastern Ukraine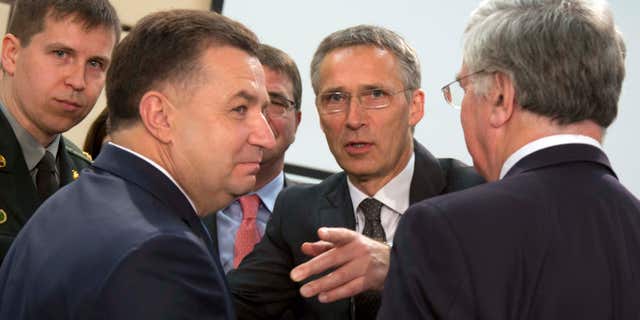 The top U.S. commander for NATO said Thursday that Russian President Vladimir Putin isn't finished with his involvement in eastern Ukraine as the U.S. and its allies outlined support for Kiev.
U.S. Gen. Philip Breedlove, NATO's supreme allied commander, said the flow of ammunition and other military supplies from Russia across the border to Ukraine is continuing, backed by a well-trained and ready Russian force.
"Mr. Putin is very clear that he does not want Kiev leaning to the West and that he will use the appropriate force necessary to keep Kiev from leaning to the West, and so for that reason, as you know, Kiev remains leaning to the west," Breedlove told reporters in Brussels. "And so, I don't think Mr. Putin is done in eastern Ukraine."
NATO Secretary-General Jens Stoltenberg earlier warned of a return of heavy fighting in eastern Ukraine. He said the alliance is creating a new trust fund that will help pay for the effort to remove mines and detect and destroy improvised explosive devices. He said those steps will be vital in helping save lives in a conflict that has killed more than 6,000.
He also said NATO is working to better secure the airspace in the region. He said Poland, Norway and Turkey will be sharing more airport traffic control data with Ukraine, which is considered to be a critical move because it's "an area which is unstable and where we see fighting going on, on the ground." A Malaysian airline leaving Amsterdam was shot down over eastern Ukraine last year.
Meanwhile, Defense Secretary Ash Carter gave allies more details on the U.S. military support for a NATO rapid response task force. The U.S. will commit to sending troops, aircraft and other equipment in 10 different categories, including special operations forces, intelligence and surveillance, transportation, refueling, Air Force and Navy aircraft support, precision weapons, combat helicopters and a command post.
Carter's comments came as the U.S. and other allied defense ministers hammered out ways they can bolster the defenses of Ukraine, which is not a NATO country. Russia annexed its Crimea region last spring, and Russian-backed separatists in the east have engaged in a form of civil war. Moscow has repeatedly denied helping the rebels.
Ukrainian Defense Minister Stepan Poltorak said NATO defense ministers would reconsider sending weapons if the attacks against government forces escalate in the east.
But "'nobody promised to us tomorrow they will supply us with lethal weapons, no," he said.
Breedlove said that Russia still has a very efficient force east of the Ukraine border, and there is a constant flow of supplies, men and soldiers back and forth.
"The Russians command, lead and enable a very capable force inside the Donbass that is also extremely well supplied," said Breedlove, describing a region of eastern Ukraine. He said there have been more than 30 supply missions to the Russian-backed separatists in Ukraine.
U.S. and European officials also believe there is a broader threat from Russia as Moscow suggests it might use nuclear weapons in a territorial dispute like Russia's annexation of Crimea. At a congressional hearing Thursday in Washington, the vice chairman of the Joint Chiefs of Staff, Adm. James A. Winnefeld Jr., said, "It's very important that the Russians understand that far from being de-escalatory, first use of nuclear weapons in a conflict like that risks uncontrolled escalation."
He added: "They need to understand that we're not falling for this trap. We are determined to protect and defend our allies."
Carter has discussed plans for the Pentagon to provide additional military assistance to Europe, to help reassure allies who feel threatened by Russia's aggression as well as extremist groups like ISIS.
Carter has rolled out plans for the Pentagon to provide additional military assistance to Europe, to help reassure allies who feel threatened by Russia's aggression as well as terror groups.
He told allies the U.S. will spread about 250 tanks, armored vehicles and other military equipment across six former Soviet bloc nations, and will also be willing to provide, when needed, weapons, aircraft and forces, including commandos, to supplement NATO's new very high readiness task force.
During the NATO meeting, allies have insisted they are not looking to restart a Cold War-style arms race with Russia, but are working to address the threats that alliance nations are facing.
As a result, they have announced that they will increase the strength of the alliance's Response Force, which was 13,000 at the start of 2015, to as many as 40,000. And they added air, sea and special forces units to the force, which includes a highly mobile, multinational "spearhead" brigade of 5,000 ground troops the ministers ordered formed in February so NATO can reinforce any alliance member under threat within 48 hours.
The Associated Press contributed to this report.