NATO defense minister to meet about Russia, how to upgrade existing response force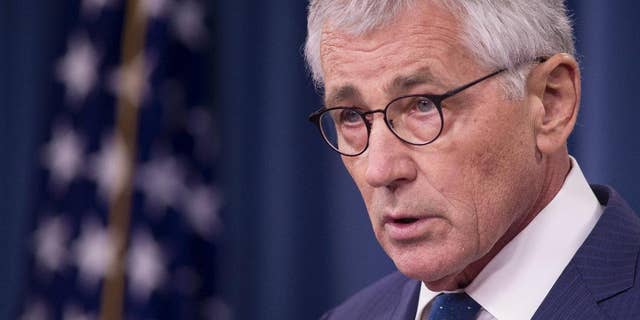 BRUSSELS – With NATO officials calling Russia more unpredictable now than during the Cold War, alliance defense ministers on Thursday are expected to approve further measures to enhance the organization's ability to deter and, if necessary, respond to military threats from Moscow, officials said.
Adam Thomson, Britain's permanent representative to NATO, predicted "an encouraging degree of alliance commitment" that will demonstrate "NATO is strengthening its military posture in response in particular to the challenge that Russia's behavior represents."
As outlined by NATO officials, key decisions expected at the Brussels gathering of U.S. Defense Secretary Chuck Hagel and counterparts from the other 27 NATO member countries include:
— Upgrading the existing NATO Response Force to make it bigger, more capable and more quickly deployable.
— Firm commitments from some of NATO's European members to act as "framework" nations for the fastest-moving element of the Response Force, commonly known as "the spearhead" and now estimated to number around 5,000 land-based troops.
— An official go-ahead for a proposal to establish small NATO liaison units in the three Baltic republics — Estonia, Latvia and Lithuania — and Poland, Romania and Bulgaria, to improve coordination and planning, and in case needed, help smooth the way for fast deployment of the NATO Response Force.
In addition to decisions on how to keep transitioning, NATO said it can better face threats from Russia, as well as from the instability spawned by Islamic extremism in North Africa and the Middle East. The ministers will meet with their counterpart from the ex-Soviet republic of Georgia. A session is also planned on issues related to the effectiveness, safety and security of NATO's nuclear deterrent.
Thursday's meeting by the defense ministers is the first since President Barack Obama and other NATO heads of state and government last September ordered an overhaul of alliance capabilities and defense posture, called the Readiness Action Plan, or RAP, to take into account Russia's annexation of the Crimean Peninsula and purported military interference in eastern Ukraine.
"We need to show to the world and to the opposite number in Moscow that we have implemented the RAP significantly and have made significant progress," a senior NATO official said on condition of anonymity because he wasn't authorized to make public statements.
NATO spokeswoman Oana Lungescu insisted the alliance's actions were defensive, proportionate and in keeping with the organization's international commitments.
"It's only normal for a collective defense alliance such as NATO to make sure that it does everything it needs to do to protect and defend its allies," Lungescu said. "That is what we're doing."