NATO: Afghan insurgents attack coalition base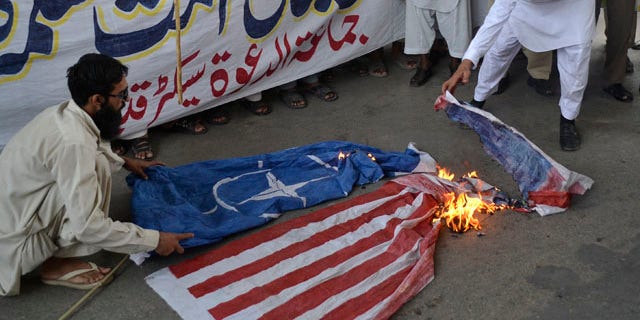 NEWYou can now listen to Fox News articles!
KABUL, Afghanistan – A suicide car bomber and other insurgents attacked a U.S.-led coalition base Friday outside of Khost, the capital of Khost province in eastern Afghanistan, Afghan officials said. There was no immediate information about military casualties, but at least six civilians were wounded.
The Taliban claimed responsibility for the attack.
NATO confirmed that insurgents attacked a coalition base at 1 p.m. local time in the east but did not disclose the location.
In the past two years, tens of thousands of U.S.-led coalition troops have flooded Taliban strongholds in the south and have largely succeeded in boosting security there. But the Taliban have proven resilient, opening up new fronts in the north and west and stepping up attacks in the east, where much of the heaviest fighting is presently concentrated.
NATO plans to pull combat troops out of Afghanistan by the end of 2014 and turn security over to local forces.
Provincial police chief Gen. Sardar Mohammad Zazai said the blast occurred at a coalition base about 5 kilometers (3 miles) outside Khost.
"It was a very strong blast. Khost city shook and we heard firing," Zazai said.
Gen. Gula Jan, an Afghan police official who was at the scene, said the attack occurred at Camp Salerno. Jan said six civilians -- three women and three children -- were wounded when a wall collapsed from the force of the explosion.
"The blast was inside the compound and then we heard firing," Jan said. "There is a helicopter flying over the base."
Zabiullah Mujahid, a spokesman for the Taliban, said a suicide bomber targeted the base in an explosives-filled car that slipped onto the base near where coalition troops dine.
"The truck was full of explosives," Mujahid said in a statement.
He said that after the blast, other insurgents entered the compound on foot and opened fire.
"They had suicide vests, rocket-propelled grenades, heavy machine guns and hand grenades," Mujahid said, adding that fighting was still under way at the site.
Mujahid claimed that an airplane on an airstrip at the base was destroyed and that "tens" of foreign forces were killed and wounded, but that could not be independently confirmed.
However, Daoud Afghan, a spokesman for the governor of Khost, said initial reports were that four suicide bombers had been killed and that there were no other casualties.
Forward Operating Base Salerno is a large coalition base that has a large Soviet-built airfield. It is near Camp Chapman, where seven CIA employees were killed in a suicide attack in December, 2009.
Salerno and its outlying fire bases have been the focus of repeated militant suicide, artillery and sniper attacks over the past several years.
One of the most brazen of the war occurred in August, 2008, when about 100 Taliban fighters broke through the perimeter of the base. After a two-hour firefight, helicopter gunships forced the guerrillas to retreat.
On May 19, a suicide bomber blew himself up at a police checkpoint in Ali Sher district of Khost province, killing 13 people -- 10 civilians, two Afghan policemen and an Afghan border police officer.