National Strike Grows In Colombia As Police Clash With Demonstrators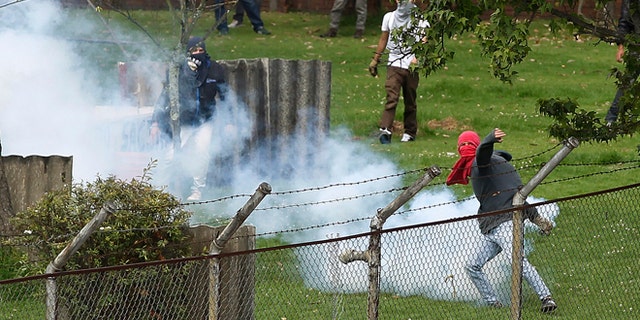 Echoing the widespread social discontent that swept through Brazil last month, demonstrators have taken to the streets in Colombia to protest various issues ranging from agrarian reform to ending a crackdown on illegal mining.
Part of a national strike launched Monday by several labor unions – including representing truckers, miners and coffee workers – the unrest has spread to include cacao farmers, teachers and health care workers.
"We're not trying to overthrow the government or support one armed group or another, we just want solutions to our problems," Javier Correa Velez, the head of a coffee-growers association called Dignidad Cafetera, told the Miami Herald. "The strike is simply a symptom of an illness that the entire agriculture sector is suffering from."
While the strike has not garnered the type of violent unrest that Brazil suffered during the Confederation's Cup protests, Colombian media is reporting clashes between protestors and police in some areas, with roads into the capital of Bogotá blocked by overturned vehicles and fuel and food shortages in some municipalities.
Colombian newspaper El Tiempo reported that around 32,000 people have so far been involved in the strike, with 61 people arrested as of Tuesday night.
While the unrest in made up of varying groups of workers, many of their concerns are interconnected and mainly focused on what they deem to be failings of the government. Truckers are angry about low wages and high gas prices, coffee workers want relief for their bankrupt industry and miners are fighting against government interventions.
The strike is a continuation of unrest in March when farm workers blocked Colombia's main roads for 12 days, stranding several of the country's departments without supplies. Santos was able to avert that crisis by promising to raise the minimum wage for farmers.
For his part, Colombian President Juan Santos has remained steadfast in his feelings that he won't give in to protestors' demands and said the situation won't simply go away by throwing more money at the problem. He added that the protests were not as big as expected and thanked those who didn't participate.
"I want to thank the citizens for their collaboration in giving out information to the authorities, who were able to keep the situation under control," he said, according to El Tiempo.
The protests come at a dicey time for the Santos government, as it continues its peace talks with the guerilla group Revolutionary Armed Forces of Colombia, commonly known a FARC, to end the 60-plus year civil conflict between the government and Latin America's longest-running rebel group.
Follow us on twitter.com/foxnewslatino
Like us at facebook.com/foxnewslatino