Nadal loss not relevant for Murray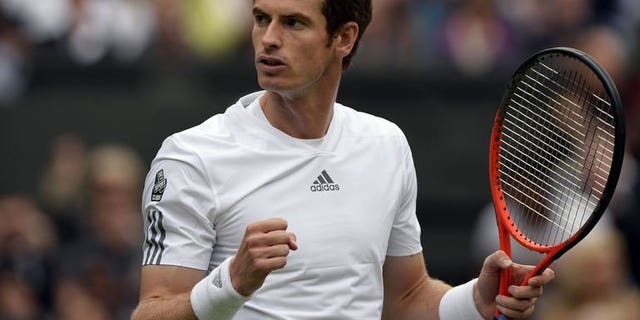 LONDON (AFP) – Andy Murray insists he didn't celebrate Rafael Nadal's stunning exit from Wimbledon even though the Spaniard's loss is a major boost to the world number two's title challenge.
Murray has lost 13 of his 18 meetings with Nadal, including three painful defeats at the All England Club in the 2010 and 2011 semi-finals and the 2008 quarter-finals.
Given that dismal sequence, the 26-year-old could have been forgiven for cursing when he learnt last week that French Open champion Nadal was a potential last four opponent once again at Wimbledon.
But Murray's luck was in on Monday as a lethargic Nadal slumped to his first ever opening round loss at a Grand Slam, losing 7-6 (7/4), 7-6 (10/8), 6-4 to unheralded Belgian Steve Darcis.
Murray was on court finishing off his 6-4, 6-3, 6-2 win over Germany's Benjamin Becker as the Nadal drama came to a conclusion, but he was aware of the result as it flashed up on the Centre Court scoreboard during a change-over.
Yet, rather than relish Nadal's defeat, the US Open champion was adamant the result meant nothing to him because their potential meeting had been too far off.
"It's pretty irrelevant right now," he said. "I'm sure for you guys it's very relevant, but for the players, especially me, you have to win at least four more matches before that would even become something I would think about.
"I was aware of what was going on, but I wasn't thinking particularly long and hard about it when I was on the court.
"I'd say as a fan of tennis, it's probably disappointing that he's out because he's a fun guy to watch, and he brings a lot to the tournaments that he plays in.
"He's one of the best players that's ever played, so it's a shame in that respect.
"But I'm not here to worry about all of the other players just now. I just have to focus on myself, my matches, try and take care of them one at a time.
"It's obviously surprising. But the consistency that Rafa, Roger, Novak have shown in the slams over the last five, six years, it's going to be almost impossible to keep that up forever."
Rather than worry about future opponents, which could still include Roger Federer in the last four, Murray will focus on Taiwan's Lu Yen-Hsun, who awaits the second seed in the next round.
Murray, beaten by Federer in last year's final, is well aware of the threat posed by Lu, who defeated the Scot at the 2008 Olympics in Beijing.
"I know quite a lot about him. I lost to him in the Olympics in 2008 in Beijing. It was a very tough loss for me. I learnt a lot from that match," Murray said.
"He's made the quarters here before. He's beaten Roddick here and plays well on grass. So I'll need to be ready."
If Murray sees off Lu it will be the 108th Grand Slam match win of his career, taking him further clear of Fred Perry's record which he broke by beating Becker.
I didn't actually know that," Murray said. "That's nice. The Grand Slams are obviously the pinnacle of our sport.
"It's the tournaments I prepare extremely hard for and where you want to play your best tennis.
"I guess that shows I've played some of my best tennis at the slams and hopefully I can continue that."