N.M. officials say violence at Trump rally was gang-related, not stirred by politics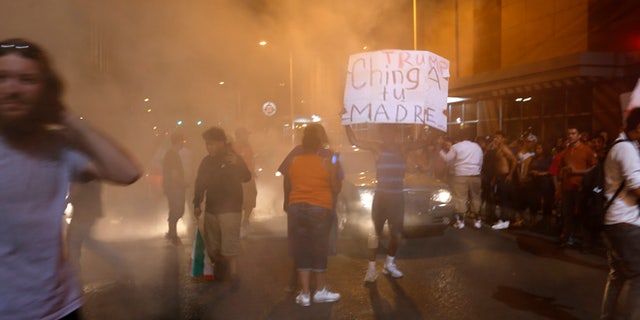 ALBUQUERQUE, N.M. (AP) – A day after a riot erupted outside a Donald Trump rally, Albuquerque officials blamed the downtown melee not on impassioned politics but on an unruly group intent on creating chaos in a city that has seen more than its share of violence.
Some participants openly admitted that they set out to cause disruption. Many in the crowd were seen with gang tattoos and at one point chanted to Trump supporters that they controlled the streets.
"I woke up all hung over and stuff," said Chelsea Rae Gray, a 24-year-old musician. "And then I said, 'Let's see what kind of chaos we can get into.'" She said she came to the protest in her pajamas and stole some Trump T-shirts from vendors during the confusion.
"Then I burned them," she said.
Cleanup crews spent Wednesday clearing away broken glass and charred debris in the largest city in the nation's largest Hispanic state. The mayor and police were tallying up the damage that spread to several blocks near historic Route 66.
The violence unfolded close to the site of tumultuous anti-police protests two years ago that were sparked by claims of excessive force and the fatal shooting of a homeless man by officers. A 2014 demonstration in downtown Albuquerque saw police in riot gear clash with angry demonstrators who threw rocks and gas canisters, and shut down City Hall.
Like that protest, Tuesday's gathering quickly turned from peaceful political opposition to chaos. Demonstrators stomped on patrol cars and shattered windows with rocks, authorities said.
Six officers were hurt after being hit with fist-sized rocks. They were treated at the scene, a police spokeswoman said.
"It was a riot that was the result of a mob trying to cause damage and injury to public property and innocent citizens exercising their constitutional right to peaceably assemble," City Council member Dan Lewis said.
The protest originally organized by advocacy groups known for nonviolent tactics began with demonstrators gathering across the street from the rally at the Albuquerque Convention Center. They had a voter-registration booth, and some activists brought children who waved anti-Trump signs at pro-Trump people making their way to listen to the presumptive Republican presidential nominee. Others waved Mexican and American flags. One held a Trump piñata.
Just as Trump's evening speech was to begin, some protesters tossed water bottles at Trump supporters, even hitting Dereck Scott, a 37-year-old man in a wheelchair. "I have the right to support who I want," said Scott, whose head was red where he got hit. He did not require medical treatment.
By nightfall, the family atmosphere gave way to protesters with tattoos of the Sureños 13 gang, a loosely organized collection of Latino gangs that pay tribute to the Mexican mafia.
The protesters eventually charged the convention center doors just as people from the Trump rally were being directed to leave through a detour. Some of them warned rally attendees to be careful since the gang "ran these streets."
As police tried to move the crowd away, officers ducked rocks and burning shirts and then used smoke canisters and pepper spray to move the demonstrators.
From block to block, shirtless men with sticks and other weapons roamed nearby streets until police pushed the crowd out of downtown.
Javier Benavidez, executive director of the advocacy group Southwest Organizing Project, was carried out of the convention center for disrupting Trump's speech. He said organizers tried to keep the demonstration peaceful.
"We don't condone violence," Benavidez said. "But these are people who have been hurt by (Trump's) rhetoric and his hate. This is a result of months and months of hateful rhetoric."
The riot came as Albuquerque is trying to make law-enforcement reforms ordered by the Justice Department, and is struggling with violent-crime and property-crime rates that are nearly twice the national average. Residents also are watching as the two former officers involved in the 2014 shooting of James Boyd — a homeless man who authorities say suffered from mental illness — prepare to stand trial.
Albuquerque Mayor Richard Berry said the city was thankful for first responders who protected residents.
"We will work diligently to hold accountable those few individuals who came to perpetrate violence, endanger others and damage property," Berry said.
Like us on Facebook
Follow us on Twitter & Instagram