N. Korea's Kim, Heir Apparent Son Appear on Live TV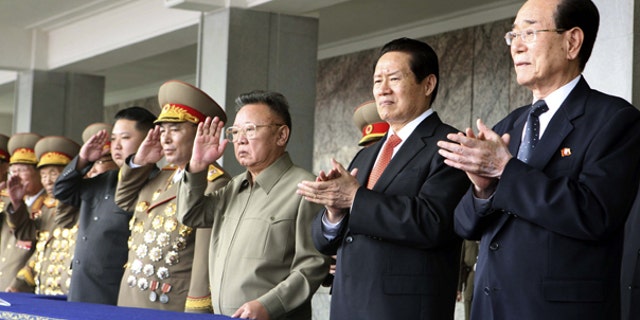 PYONGYANG, North Korea – PYONGYANG, North Korea -- North Korean leader Kim Jong Il and his son, heir apparent Kim Jong Un, appeared together a massive military parade Sunday held amid celebrations marking the foundation of the country's ruling party.
State television in a rare live broadcast showed the two Kims standing on a reviewing stand at Pyongyang's central Kim Il Sung Square, named after the country's national founder, where goosestepping military personnel marched by and military hardware, including tanks, passed below.
It's the first time Kim Jong Un has appeared with his father on live television, giving the North Korean people their first good look at their future leader.
The elder Kim entered the venue to huge cheers from the crowd. He was accompanied by his son and other top officials including Kim Yong Nam, the president of the country's parliament.
The parade is part of celebrations marking the 65th anniversary of the establishment of the Workers' Party of Korea. The party last month held a landmark political convention, its most significant gathering in 30 years, at which Kim Jong Un was promoted to vice chairman of the organization's central military commission.
State TV showed goosestepping military personnel marching past the reviewing stand and being saluted by Kim Jong Il and later Kim Jong Un, who was not dressed in military uniform as some analysts had expected. He wore the same dark, communist-style outfit he has been seen photographed in recently since making his public debit late last month.
Earlier, a North Korean flag was raised and military officers in full dress uniform watching as a band played rousing music and the large crowd looked on.
"If the U.S. imperialists and their followers infringe on our sovereignty and dignity even slightly, we will blow up the stronghold of their aggression with a merciless and righteous retaliatory strike by mobilizing all physical means, including self-defensive nuclear deterrent force, and achieve the historic task of unification," Ri Yong Ho, chief of the General Staff of the North Korean army, said before troops began marching.