Mutiple Deaths Reported After Major Quake Rocks New Zealand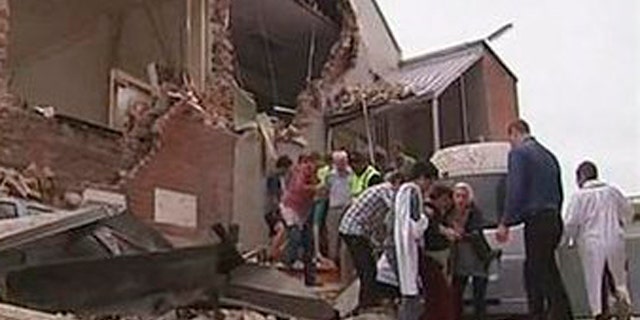 CHRISTCHURCH, New Zealand -- A powerful earthquake struck New Zealand's already-bruised city of Christchurch on Tuesday, collapsing buildings, burying vehicles under debris and sending rescuers scrambling to help trapped people amid reports of multiple deaths.
The 6.3-magnitude quake hit the country's second-biggest city on a busy weekday afternoon and closer to downtown than a major quake that damaged Christchurch last September but caused no deaths when it struck before dawn on a weekend.
Police said there were reports of multiple fatalities from the latest temblor in the city of 350,000, while Prime Minister John Key told Parliament it was still too soon to confirm the deaths.
The quake destroyed the spire of the iconic stone Christchurch Cathedral, which toppled into a central city square, and police said there was a report of two buses crushed under falling buildings.
Video footage showed some multistory buildings collapsed in on themselves, and others with walls that had collapsed into the streets, strewn with bricks and shattered concrete. Sidewalks and roads were cracked and split, and thousands of dazed, screaming and crying residents wandered through the streets as sirens blared. Groups of people helped victims clutching bleedings wounds, and others were carried to private vehicles in makeshift stretchers fashioned from rugs or bits of debris.
Christchurch Mayor Bob Parker declared a state of emergency and ordered people to evacuate the city center. Troops were deployed to help people get out and to throw up a security cordon around the stricken area, said Deputy Prime Minister Bill English.
"Make no mistake -- this is going to be a very black day for this shaken city," Parker said when asked about possible deaths.
The airport was closed, and Christchurch Hospital was briefly evacuated before it was deemed safe and patients were returned. Power and telephone lines were knocked out, and pipes burst, flooding the streets with water. Some cars parked on the street were buried under rubble.
Some people were stuck in office towers and firefighters climbed extension ladders to pluck people trapped on roofs to safety. A crane lifted a team of rescuers on a platform to one group of survivors in a high rise. Plumes of gray smoke drifted into the air at several points around the city from fires burning in the rubble.
Key held an emergency Cabinet meeting then rushed to the stricken city to observe the scene.
"The worrying fear, of course, is that this earthquake has taken place at a time when people were going about their business -- it is a very populated time, with people at work, children at school. Sadly, I cannot rule out that there have been fatalities," he told Parliament.
New Zealand police said in a statement that there were reports of multiple fatalities in the city, including a report that two buses had been crushed by falling buildings. The police statement said there were other reports of fires burning. Hours after the quake, English said it was still not possible to confirm any deaths.
Gary Moore said he and 19 other colleagues were trapped in their twelfth floor office after the stairwell collapsed in the quake. He did not know if people on other floors were trapped.
"We watched the cathedral collapse out our window while we were holding onto the walls," Moore said. "Every aftershock sends us rushing under the desks. It's very unnerving but we can clearly see there are other priorities out the window. There has been a lot of damage and I guess people are attending to that before they come and get us."
The multistory Pyne Gould Guinness Building, housing more than 200 workers, collapsed and an unknown number of people are trapped inside. Television pictures showed rescuers, many of them office workers, dragging severely injured people from the rubble. Many had blood streaming down their faces. Screams could be heard from those still trapped.
Parker, the mayor, said he was on the top floor of the city council building when the quake hit just before 1 p.m. local time, throwing him across the room.
"I got down onto the street and there were scenes of great confusion, a lot of very upset people," he said. "I know of people in our building who are injured and I've had some reports of serious injuries throughout the city."
The U.S. Geological Survey said the temblor was centered 3 miles from the city at a depth of 2.5 miles. Two large aftershocks -- one magnitude 5.6 and another 5.5 -- hit the city within two hours, and officials warned people to stay away from damaged buildings because of the danger of further collapses.
"When the shaking had stopped I looked out of the window, which gives a great view onto Christchurch, and there was just dust," said city councilman Barry Corbett, who was on one of the top floors of the city council building when the quake struck. "It was evident straight away that a lot of buildings had gone."
A search and rescue team was being flown in from Australia to help in the recovery, and Australian Prime Minister Julia Gillard said she had offered Key any other support he requested.
The USGS said the latest quake was part of the "aftershock sequence" following the 7.1 magnitude earthquake on Sept. 4 last year. That quake wrecked hundreds of buildings, inflicted an estimated 4 billion New Zealand dollars ($3 billion) in damage, but caused no deaths.
A strong aftershock in December caused further damage to buildings. The city, considered a tourist center, was still rebuilding from those quakes when Tuesday's temblor hit.
The USGS said the latest quake hit "significantly closer to the main population center of Christchurch" than the September quake, which was centered 25 miles (40 kilometers) west of city.
"The critical issue with this earthquake was that the epicenter was at shallow depth under Christchurch, so many people were within 10 to 20 kilometers (6 to 12 miles) of the fault rupture," said Gary Gibson, a seismologist at Australia's Melbourne University.
"Its effect depends on how close it is, and ground shaking will be severe within 10 to 20 kilometers of the rupture," he said.