Mother of teen at center of custody dispute meets her 'right' daughter in Mexico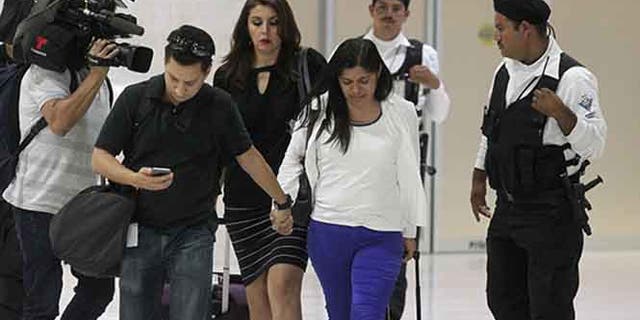 The mother of Alondra Díaz, the teen who was allegedly abducted by her father in 2007 and taken to Mexico, arrived in Los Reyes, Michoacán, on Tuesday morning and is waiting for DNA tests results to confirm the girl's identity.
"I am a few hours away from seeing her and I'm happy," Dorotea García, a resident of Houston, said upon her arrival, according to the Associated Press.
"I am dying to have her in my arms, and I hope to return with her" to the United States, she added.
Mother and daughter finally met around 1 p.m. in a courtroom, where a judge was holding a hearing with all parties involved.
It is the same judge who last month mistakenly ordered the removal of Alondra Luna Nuñez without requesting genetic tests.
A video that circulated widely in social and traditional media showed the wrong Alondra being taken out of her school kicking and screaming by police.
Days later, DNA testing in the Texas proved that Luna Nuñez was not García's daughter, and she was returned to her family in Guanajuato, Mexico. The girl and her family had asked for a genetic examination before she was sent to Texas, but the judge said that was not within her authority and declined to order the test.
Alondra Díaz's father, Reynaldo Díaz, took the girl to her paternal grandfather over the weekend, Juan Manuel Estrada, president of the National Foundation for Stolen Children and Disappeared, told the Mexican newspaper El Universal.
Estrada had agreed with Alondra's father to deliver her to the Human Rights Commission offices in Jalisco, even though at the last minute Díaz got scared of being arrested or that Alondra would be abused," according to Estrada.
"The important thing is that he fulfilled his promise to deliver the child," Estrada said. "Everything will be easier now."
Before arriving at the courthouse Monday, the girl said in an interview conducted by Univision that she was "saddened" by what had happened.
"Yes, I was content with my father," she said. "I was happy, but at the same time I felt that something was missing ... I have lacked the love of my mother because I have not seen her for so long."
"But I also want to be with my father," she added.
The Associated Press contributed to this report.