Mossack Fonseca, firm at center of 'Panama Papers,' has long history of shady dealings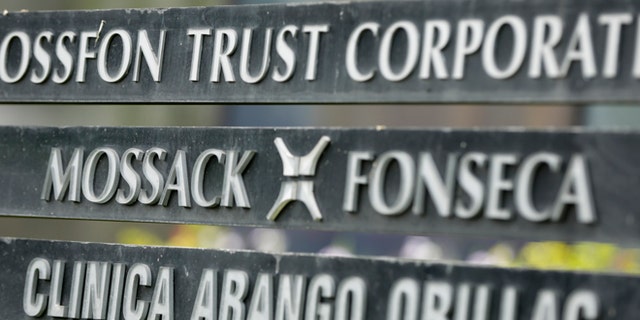 NEWYou can now listen to Fox News articles!
With the release of a trove of documents linking a slew of world leaders and wealthy people of power to shady business deals and offshore financial moves, the Central American nation of Panama is once again under criticism for being an alleged "tax haven."
At the center of what has been dubbed the "Panama Papers" scandal is Mossack Fonseca, an international law firm with offices in more than 40 countries and a history that sounds like something out of a John le Carré novel.
Founded in 1977 by German Jürgen Mossack and Panmanian Ramón Fonseca, the company specializes in maritime law, trust services, wealth management, international business structures, and commercial law. It also operates offices in Belize, The Netherlands, Costa Rica, United Kingdom, Malta, Hong Kong, Cyprus, British Virgin Islands, Bahamas, Panama, British Anguilla, Seychelles, Samoa and in three U.S. states.
The company claims it has "operated beyond reproach" for 40 years and has never faced criminal charges.
But it is now coming under increasing scrutiny following a report brought to light by an international coalition of media outlets with the Washington-based International Consortium of Investigative Journalists.
The consortium said the documents – based on a cache of 11.5 million records – involve 214,488 companies and 14,153 clients of Mossack Fonseca. While the nonprofit group said it would not release the full list of companies and people linked to them until early next month, it has spotlighted high ranking governmental officials in countries such as Argentina, Mexico, Honduras and Brazil.
For his part, Fonseca has confirmed that the documents obtained by the ICIJ were authentic, but says they were obtained by hackers. He added that most of the people named in the report are not his direct clients but were accounts set up by intermediaries. He insists his firm did not engage in any wrongdoing.
The ICIJ, however, believes that the firm looked the other way when it came to money laundering, tax evasion, political corruption and criminal enterprises.
"The firm's customers have included Ponzi schemers, drug kingpins, tax evaders and at least one jailed sex offender," the ICIJ report stated. "The law firm has worked closely with big banks and big law firms in places like The Netherlands, Mexico, the United States and Switzerland, helping clients move money or slash their tax bills."
Mossack, the son of a Nazi SS officer, moved to Panama as a child following the end of World War II. While living in Panama, his father offered to spy on communist activity in nearby Cuba for the CIA, according to U.S. Army intelligence files.
The younger Mossack went to law school in Panama and began to practice in London before returning to Panama to start the firm that would later merge into Mossack Fonseca.
Fonseca, who besides being embroiled in this scandal has as second career as an award-winning novelist, is a member of Panama's high society and connected to many of the country's leading politicians. He was most recently an advisor President Juan Carlos Varela, but was forced to take a leave of absence amid allegations of his role in the bribery and money-laundering scandal enmeshing Brazil's state-controlled oil company Petrobras.
"Our firm has been mistakenly connected with matters in which we have no involvement whatsoever," the company said in a statement earlier this year in regards to the Petrobras scandal. "All our offices maintain the highest due diligence standards that comply with all international laws and regulations."
The ICIJ report also reaffirms Panama status as a "tax haven" alongside places like the British Virgin Islands, the Cayman Islands and Switzerland. A tax haven is a country that offers foreign individuals and businesses little or no tax liability and provides little or no financial information to foreign tax authorities.
"The scope is surprising, but we all knew Panama was a haven for this type of stuff," Chris Sabatini, a professor at Columbia University's School of International and Public Affairs told Fox News Latino.
Despite Panama promising to crack down on money laundering and other illicit banking operations as part of its free trade agreement with the U.S., Sabatini said that the only thing that has changed is the people putting their money into these operations.
"Panama may not be used by drug traffickers anymore," he said, "but there is still a huge amount of nefarious operations going on."