Mortar hits Assad gathering in Syria, killing at least 21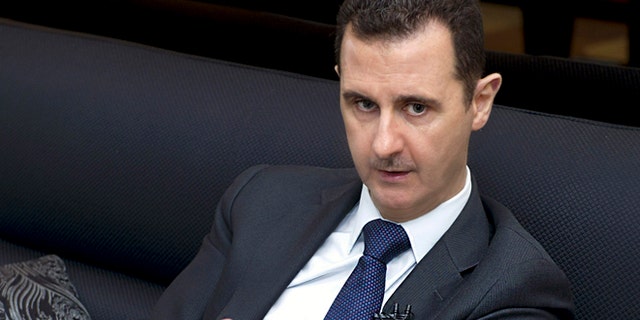 BEIRUT – A mortar shell struck a large tent in southern Syria where supporters of President Bashar Assad had gathered for election campaigning, killing at least 21 people and wounding scores, opposition activists said Friday.
State media reported the mortar attack late Thursday, saying it killed and wounded an unspecified number of civilians inside the tent.
Assad, rarely seen in public since the start of Syria's 3-year-old conflict, has not been seen campaigning since he declared his candidacy last month and he was not at the gathering in the southern city of Daraa, where the uprising against his rule began in March 2011.
More than 160,000 people have been killed in the fighting as the revolt morphed into a civil war that has also sent millions fleeing for their lives and turned once-prosperous cities into rubble-strewn warzones.
There was no immediate claim of responsibility for the attack in Daraa. Rebels trying to overthrow Assad frequently fire mortar shells into Syria's major cities, including the capital, Damascus, from opposition-held suburbs.
The overnight attack underscored concerns that rebels will step up attacks against government strongholds in the run-up to the June 3 election to disrupt the voting. Western leaders and opposition groups have described the vote held amid the civil war as a sham.
Ahmad Masalma, an opposition activist in Daraa, said rebels from the Free Syrian Army umbrella group fired a mortar shell at the tent in a government-held area, after repeatedly warning civilians to stay away.
He said there were about 100 people in the tent, including members of pro-Assad militias, officers and employees. More than 25 people were killed and the rest were wounded in the attack, which "set the tent ablaze and sent shrapnel flying everywhere," he said.
The Britain-based Syrian Observatory for Human Rights, which relies on activists on the ground for its reports, also said the shelling targeted an "electoral tent" and killed 21 people, including 11 civilians.
Ahead of the presidential election, rallies and other public gatherings by Assad's supporters are being held, often in tents, in some government-controlled parts of the country. Assad is widely expected to win a third, seven-year mandate.
Masalma said the mood was celebratory at the tents, festooned with posters of Assad and Syrian flags.
"They have loud music and Dabka," he said, referring to a traditional foot-stomping dance. "It's very provocative and an insult to the blood of martyrs."
Assad's family has ruled Syria for more than 40 years. Though this year's vote will be the first time the family has faced challengers as opposed to a yes-or-no vote on their rule, a recently passed election law makes it impossible for those leading the revolt against Assad to compete.
Assad was last seen in public April 20 when Syrian state television broadcast images of him visiting the ancient Christian village of Maaloula, north of Damascus. Government forces recently recaptured the village, part of a series of major advances around Damascus and in the country's central region ahead of the vote.
On Thursday, Syrian tanks backed by massive air power rolled into the grounds of a sprawling prison in the northern city of Aleppo, breaking a year-long rebel siege and allowing Assad's forces to close in on a nearby rebel command center.
Aleppo is Syria's largest city and has been carved up into government- and rebel-held areas since the opposition fighters launched an offensive in the north in mid-2012.
The sprawling Central Prison complex, which lies on a highway about four miles north of the city, has been caught in the middle of the fighting for months, trapping its estimated 4,000 inmates -- including women -- in a hell of daily battles.
Government forces stormed the prison at dawn Wednesday after rebels fled under intense aerial bombardment, according to opposition activists, who said they feared for the inmates' safety.
Footage broadcast on Syria state TV on Thursday showed soldiers celebrating inside the prison grounds, speaking to a reporter as inmates cheered and flashed victory signs in their cells.
In a statement Friday, the U.N. High Commissioner for Human Rights said "a number of prisoners and detainees, in particular 53 political detainees, whose identity is known (to the U.N.) are at imminent risk."
Reflecting fears of violence breaking out in the run-up to the Syrian vote, Lebanese Interior Minister Nouhad Machnouk has warned Syrian refugees against holding rallies and gatherings within Lebanon.
More than 1 million Syrians have sought shelter in Lebanon, straining the country's resources and threatening to re-ignite the tiny Arab nation's own explosive sectarian mix. Fighting between Lebanese factions supporting opposing sides in Syria's conflict has frequently broken out in Lebanon.
In a statement Thursday, Machnouk asked the Syrian refugees "not to hold any ... public meetings with political dimensions that could in any way affect the security and stability of Lebanon."