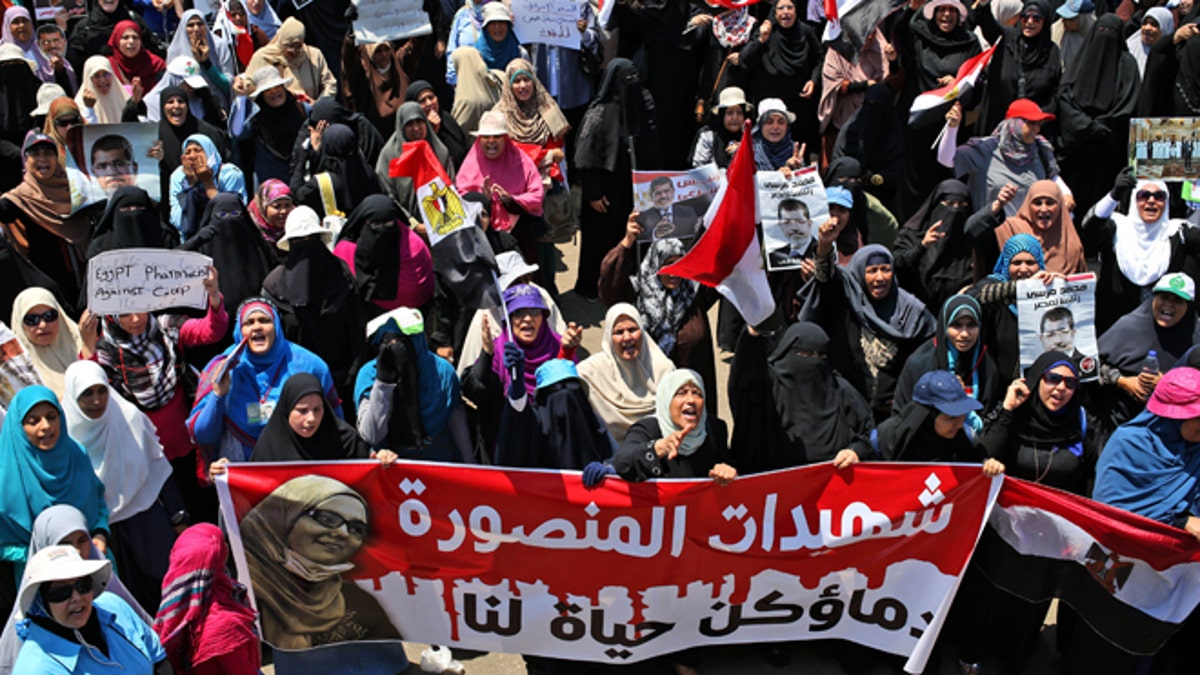 CAIRO – The family of ousted Egyptian President Mohammed Morsi accused the country's military generals Monday of "kidnapping" him, and said that it holds the army responsible for his "safety and security."
The statement is the first from Morsi's family since the military overthrew him on July 3 and took him into custody. Moris has been held incommunicado since then. Government officials say he is safe and is being held for his own protection.
"We hold the leaders of the bloody military coup fully responsible for the safety and security of the president," the family said in a statement read out by Morsi's daughter, Shaimaa.
One of Morsi's sons, Osama, described his father's detention as the "embodiment of the abduction of popular will and a whole nation," and said the family will "take all legal actions" to end his detention.
"What happened is a crime of kidnapping," said Osama, who is a lawyer. "I can't find any legal means to have access to him."
He said that the family met with Morsi for the last time on July 3, shortly before his ouster. Since then, they have had no contact with him.
"We warn Abdel-Fatah el-Sissi and his coup leaders against harming the life, health or safety of the legitimate President, our father," he added.
El-Sissi, the country's defense minister and army chief, led the military's ouster of Morsi after four days of mass protests demanding the president step down.
Speaking at the same news conference, the secretary-general of the doctor's syndicate, Gamal Abdel-Salam, said the union has asked the military to grant doctors access to Morsi to check his health. He said the deposed president suffers from diabetes and liver problems.
Morsi's son, however, denied that his father has health problems.
The Muslim Brotherhood, from which Moris hails, and his Islamist allies have held near daily street protest in Cairo and across the country to demand that he be reinstated.