Morsi in Iran for first visit by Egyptian leader in decades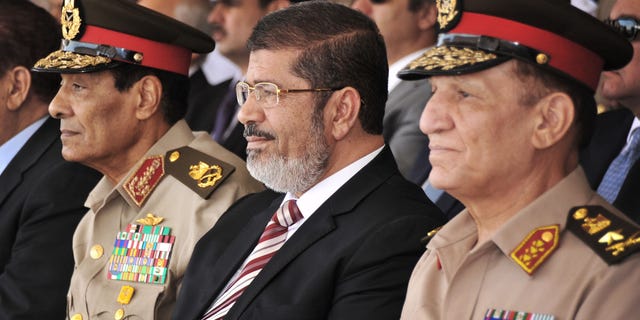 TEHRAN, Iran – Egypt's President Mohammed Morsi arrived in Tehran on Thursday in the first visit by an Egyptian leader to Iran in decades.
The Egyptian president was attending a summit of the Nonaligned Movement, and is supposed to transfer leadership of the 120-nation bloc to Tehran.
Iran's state TV in a live broadcast showed Morsi being received by Iranian President Mahmoud Ahmadinejad at the summit conference hall in Tehran.
Tehran cut diplomatic relations in 1979 because of Egypt's peace accord with Israel. Since the 1979 Islamic revolution, Iran has considered Israel as its arch foe.
Iran's leadership welcomed the 2011 uprising in Egypt that ultimately brought Morsi, an Islamist, to the presidency.
Representatives from more than 100 countries are attending.
Tehran has an ambitious agenda for the summit, including the launching of a peace effort including Egypt, Iran, and three other countries to help resolve the crisis in its key regional ally, Syria. But anti-regime fighters have dismissed any role for Iran in a plan they and some others say has little hope of succeeding.
Iran is also using the summit to counter U.S. claims that it has been isolated over its nuclear program. The West says Iran is trying to develop weapons while Tehran says the program is for peaceful purposes.