More women and children freed in Nigeria from extremists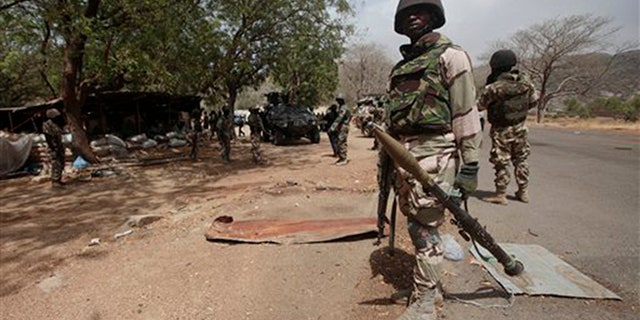 NEWYou can now listen to Fox News articles!
MAIDUGURI, Nigeria – More women and children have been rescued from Islamic extremists in the remote Sambisa Forest by Nigerian troops amid reports that some of the women have fought their rescuers.
A community leader from the area of northeast Nigeria said Thursday that a senior army officer who was at the scene described the women opening fire on shocked troops at the village of Nbita a week ago, with Boko Haram Islamic insurgents using the women to shield their main fighting force.
He said he was told that 12 women fighters and seven soldiers died in that firefight. The community leader spoke only on condition of anonymity because of the sensitivity of the issue and personal security risks.
The Nigerian military first reported rescuing almost 300 women and children in the Sambisa Forest on Tuesday after deploying ground troops into the forest more than a week ago. The army spokesman, Col. Sani Usman, told The Associated Press on Thursday that more than 100 girls and more than 50 women were rescued, apart from the first reported group.
He also said in a statement that several lives were lost, including that of a soldier and a woman, during shootouts in nine separate extremist camps in the forest.
He said eight women sustained gunshot wounds and four soldiers were seriously injured. Who shot the women was not clear. The rescued women and children were evacuated to a safety zone for further processing, Usman said in the statement.
The army spokesman also said several Boko Haram field commanders and foot soldiers were killed and combat tanks and munitions of high caliber used by Boko Haram were recovered while others were destroyed.
The military was flying in medical and intelligence teams to evaluate the former captives, many of whom were severely traumatized, Usman said earlier.
It remained unclear if any of the schoolgirls kidnapped from the northeastern town of Chibok a year ago were among those rescued.
The plight of the schoolgirls, who have become known as "the Chibok girls," aroused international outrage and a campaign for their release under the hashtag #BringBackOurGirls. Their kidnapping brought Boko Haram, whose nickname means "Western education is forbidden" in the local Hausa language, to the world's attention. Of the Chibok girls, 219 remain missing.
Nigerian military and counter-insurgency spokesmen have said they have information indicating at least some of the Chibok girls still are being held in the Sambisa Forest.
Some captives have reportedly become indoctrinated into believing the group's Islamic extremist ideology, while others established strong emotional attachments to militants they had been forced to marry.
Amnesty International said earlier this month that at least 2,000 women and girls have been taken by Boko Haram since the start of 2014.