More than 90 killed after 6.9 magnitude earthquake strikes Indonesia's Lombok Island, near Bali
A powerful earthquake near the popular tourist mecca of Bali killed at least 91 people and wounded hundreds more, damaging thousands of homes and other buildings as people were seen running into the streets screaming.
It happened just one week after another quake in the same region killed more than a dozen people.
A spokesman for the country's disaster agency said Monday the number dead had risen to 91 and could rise further since rescue crews still have not reached some areas that suffered damage. Officials said most of the deaths were due to collapsing homes.
The United States Geological Survey said the quake, initially listed as a magnitude 7.0 earthquake but later downgraded to a magnitude 6.9, was reported around 7:46 a.m. ET off the country's Lombok Island, located next to Bali.
The quake was about 19 miles deep and had an epicenter about a mile east-southeast of Loloan, according to the USGS. Dwikorita Karnawati, head of Indonesia's Meteorology, Climatology and Geophysics Agency, told MetroTV that the tsunami warning has ended, adding that the warning was for the lowest level of tsunami, and that small waves just 6 inches high were detected in three villages.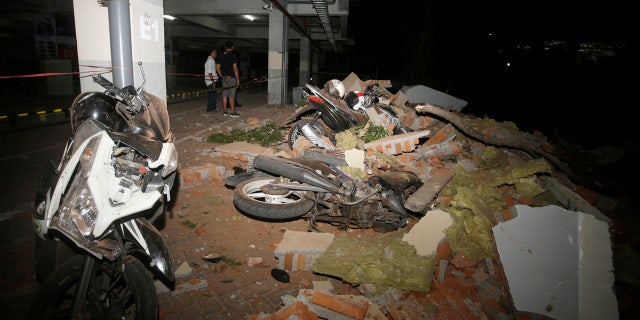 Indonesia's Disaster Mitigation Agency promptly issued an alert, saying that there was the "potential" for a tsunami to take place.
The Indonesian Agency for Meteorology, Climatology and Geophysics later said on Twitter that "tsunami aftermath" was detected in Carik and Badas.
DEADLY INDONESIA EARTHQUAKE LEAVES HUNDREDS OF TOURISTS STRANDED ON MOUNTAIN
A video posted to social media shows a tourist running through the hallway of a hotel as the building shakes.
CAUTION: STRONG LANGUAGE BELOW
There were no immediate reports of injuries, but a set of photos posted to Twitter show damage in Bali.
National Disaster Mitigation Agency spokesman Sutopo Purwo Nugroho told KompasTV that the quake strongly jolted Mataram, the capital of West Nusa Tenggara province, and may have caused damage there. He said the quake was also felt in parts of neighboring Bali island, where video aired by Kompas TV showed patients being evacuated from a hospital in Bali's Tabanan district.
Model and cookbook author Chrissy Teigen, who is currently on vacation in Bali with husband John Legend and their two children, said on Twitter it was a "massive" earthquake.
"oh my god," she wrote on Twitter. "Bali. Trembling. So long."
Teigen also reported there were "so many aftershocks."
Australian actress Teresa Palmer is also in Bali, and posted to Twitter she was in a treehouse that was "SWAYING."
"It was very scary and we are in Bali, I can't imagine how it must've felt to those closer to Lombok. Thinking of everyone affected," she wrote.
Just last week, a magnitude 6.4 quake hit Lombok, located just east of Bali, on July 29, killing 16 people. Hundreds of tourists were stranded on Mount Rinjani after the quake triggered a landslide, and more than 1,400 houses were damaged.
Like Bali, Lombok is known for pristine beaches and mountains. Hotels and other buildings in both locations are not allowed to exceed the height of coconut trees.
Indonesia is prone to earthquakes due to its location on the "Ring of Fire," an arc of volcanoes and fault lines encircling the Pacific Ocean. In December 2004, a massive magnitude 9.1 earthquake off Sumatra triggered a tsunami that killed 230,000 people in a dozen countries.
The Associated Press contributed to this report.