More than 200 migrants, mainly Somali land in Italy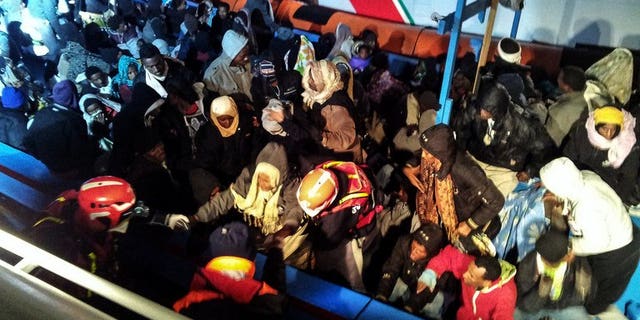 ROME (AFP) – The Italian coast guard said Saturday it had rescued more than 200 migrants off Sicily, swelling the ranks of the thousands of boat people who have made the crossing thanks to calm summer waters.
A group of 116, most of them Somalis, were drifting in the Canal of Sicily on a small rubber dinghy when they were spotted by a navy vessel and taken to the island of Lampedusa by the coastguard.
Another 100 were picked up by a vessel of the European Union border control agency Frontex and handed over to the coastguard, which took them to Portopalo, a Sicilian port south of Syracuse.
Around 1,000 migrants crossing the Mediterranean from North Africa had already landed in Italy this week alone.
Most of the thousands of economic migrants and refugees who have landed in Italy in recent months had arrived in Libya -- only 300 kilometres (185 miles) south of Lampedusa -- from other parts of Africa.
Calmer weather conditions and growing unrest in north Africa have led to a surge in migrant arrivals in recent weeks.
Italy's interior ministry said 24,277 migrants landed in Italy in the 12-month period between August 1, 2012, and August 10, 2013.