More Mexicans now leaving the U.S. than entering – but will it last?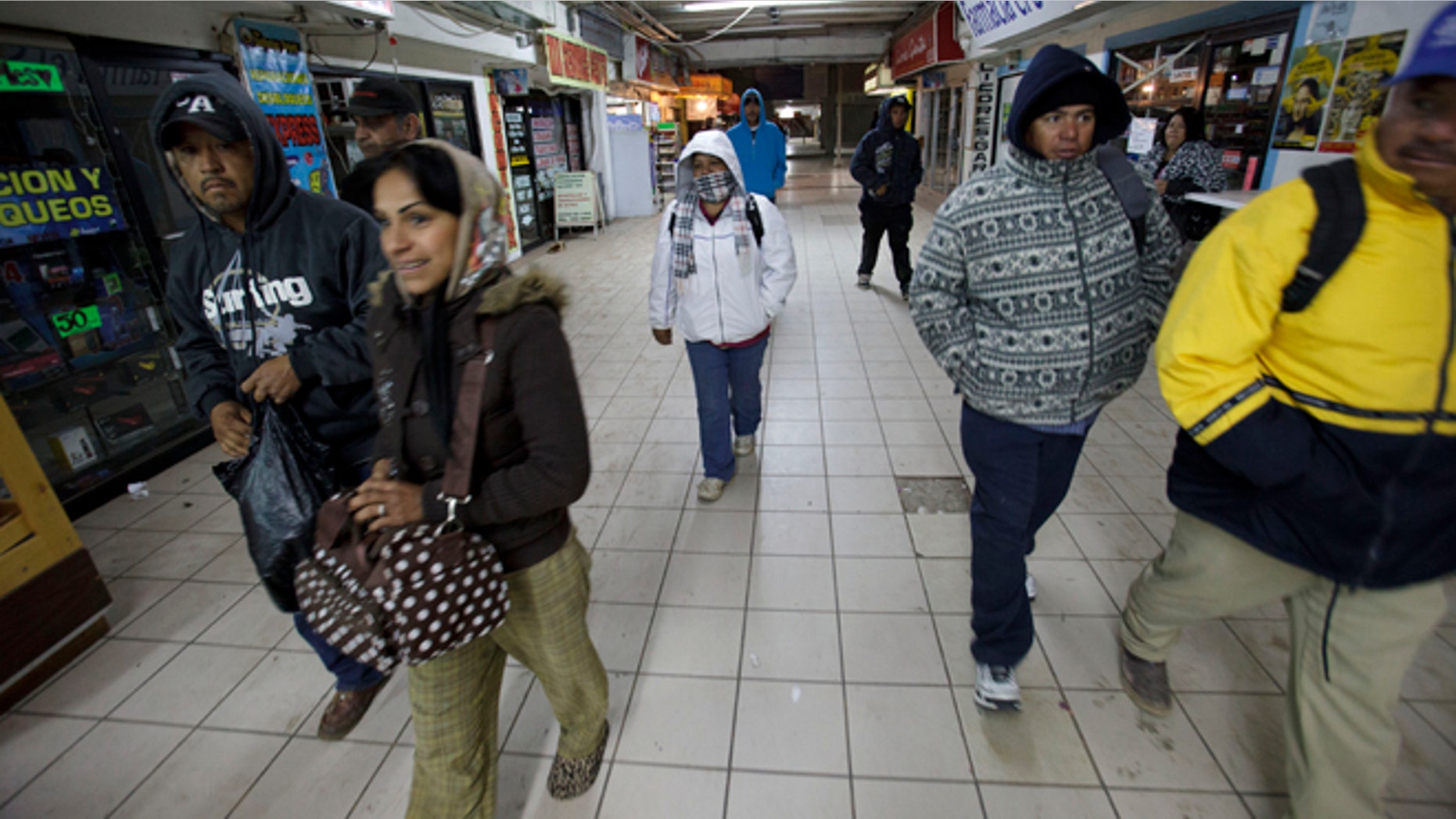 Mexico City – In 2004, Romina Ramírez was asked by a friend to cross the border into the United States.
She was hesitant at first. Only 20 years old, she didn't have the papers to enter the U.S. legally. Moreover, she had a baby boy and was very attached to her family in Córdoba, a city in Mexico's Gulf coast state of Veracruz.
"My family said it was my decision to make," she told Fox News Latino. "And eventually I decided to do it. I was promised a better life, and they told me my son would eventually join me. It was more an adventure than a dream to me."
She took the trip north the next year. It was a long and arduous journey and not without danger, but eventually Ramírez reached her destination of Phoenix, Arizona. She found the job that had been promised her, working at a chicken farm.
Life was pretty good.
"I enjoyed most of it. I had work, and everything was easier to come by in the U.S.," she said.
Even so, after barely 18 months in the U.S., she went back – not as a deportee, but voluntarily.
"Life was all right up north, but I missed my son, and I missed my family too much," Ramírez, now a 31-year old housewife living with her husband and son in the Pacific resort city of Acapulo, said.
Stories like hers are increasingly common in Mexico as in recent years more and more migrants have returned voluntarily from the United States. Indeed, in a reversal of one of recent history's largest flows of people, more Mexicans are now returning to their country of birth than are traveling northward to enter the U.S.
A new analysis, published two weeks ago by the Pew Research Center, found that Mexican migration to the U.S. amounted to a "net loss" of 140,000 people between 2009 and 2014.
According to the study, more than a million Mexicans and their families left the U.S., while only 870,000 took the journey north.
A Mexican government survey of the returnees that was cited by Pew, says that more than 60 percent of them cited family reunification as the reason to go back, whereas only 14 percent admitted that they had been deported.
"It's not a surprising development – we've been monitoring it for a while now," Jorge Durand, an anthropologist at Mexico City's CIDE University, told FNL. "Migration of Mexicans to the U.S. reached its climax in 2007 and started dropping in 2008."
Economic and political developments appear to be the principal cause. As the U.S. economy slowed in the aftermath of the Great Recession, fewer jobs were available for undocumented migrants.
That was accompanied by increasingly strict enforcement of immigration laws, making it more difficult and more dangerous to cross without papers. The risk of getting caught and deported has never been as high as it is now.
"The economic crisis coincided with a saturation of the labor market, for Mexicans and Central Americans alike," Durand said. "In the 1990s, Mexican migration to the United States practically doubled every year. It wasn't just a few marginalized regions sending migrants, it was the entire country. And everyone competed for the same jobs."
And as the factors pulling in Mexicans became weaker, those pushing them out got stronger.
Demographic changes have reduced the potential number of people looking to travel north, while economic growth in Mexico – however sluggish, has made it more attractive to stay.
"Families in poorer regions used to have six or seven children, but that number has decreased radically, down to two," Durand said. "Meanwhile it has become easier to earn a relatively decent salary in Mexico. Salaries in the U.S. used to be up to eight times higher than those in Mexico, but that difference has dropped significantly."
To Iván Girón, a 35-year old musician and bartender in Mexico City, the disappointing income in the U.S. was the reason he went back to Mexico after living in the U.S. for only six months in late 2007.
"I went with a friend," Girón told FNL. "We lived for a while in Tulsa. We worked as janitors in restaurants, but when they approved laws that allowed the police to check the residency status of anyo   ne who looked like an illegal immigrant, we decided to move to Las Vegas and try our luck there."
In Nevada, life wasn't quite as expected. "I earned relatively well, but everything was very expensive there," he said. "It was a bit disappointing. I decided it was better to just go back to Mexico."
Mexico's own approach to migrants has also vastly changed in recent years. As the flow of Mexicans northward has stalled, Central Americans are making the trip in larger numbers than ever before, pushed by poverty and extreme violence in especially Honduras and El Salvador.
Pressured by the U.S. government, Mexico last year implemented the so-called Plan Frontera Sur, which heavily fortified the southern border with Guatemala. Deportations of Central Americans have skyrocketed since, even overtaking the number of Central Americans deported from the U.S. this year.
According to Javier Urbano, who is on the faculty of Mexico City's Ibero-American University, the country's new hardline policies toward Central American migrants have also had an effect on the attitude of ordinary Mexicans.
"Mexico didn't just create a policy of giving law enforcement more money to stop migrants," he told FNL. "It gives off a message to everyone that you shouldn't migrate. It's a message of fear. Mexicans, too, are being extorted and kidnapped along the way as they head north."
The big question now is whether the trend will last.
"The current drop is paired with less demand on the labor market," Urbano said. "The next few years will be very interesting. This won't be a structural change until it's paired with the U.S. economy gaining real steam."
What's more, he believes that there are still plenty of Mexicans willing take their chances traveling north.
"In order for Mexico to keep its people from migrating, it would need an annual economic growth of around 5 percent, and it would need to create 1½  million jobs each year. We're not anywhere near those numbers," he told FNL. "We have anywhere between 7 and 10 million youths who neither study nor work. To them, there are only two career paths: migration or organized crime. If we don't deal with that, migration will continue."
Both Ramírez and Girón have no plans to go back to the U.S., however.
"I enjoyed living in the States, but I prefer being here with my family," Ramírez told FNL. "I've done the trip. I know what it's like. But ultimately I'm happy here, and there's no need for me to go back."
"I'm not saying life was bad in the U.S., but it wasn't quite what I expected," Girón said. "At least for me, going north isn't the dream that it used to be."