More explosive devices reportedly were turned up Tuesday as police raided homes throughout Belgium in a desperate manhunt for a third suspect believed to have survived the morning's coordinated bombings in Brussels, where at least 34 people were killed.
Belgian federal prosecutors said the search of a home in the Brussels neighborhood of Schaerbeek "led to the discovery of an explosive device containing among other things nails." Investigators also found chemical products and an ISIS flag.
At the same time, the death toll in the attacks was raised to 34, according to a Belgian security official who spoke with Associated Press. Belgian Health Minister Maggie De Block said that 250 others had been injured.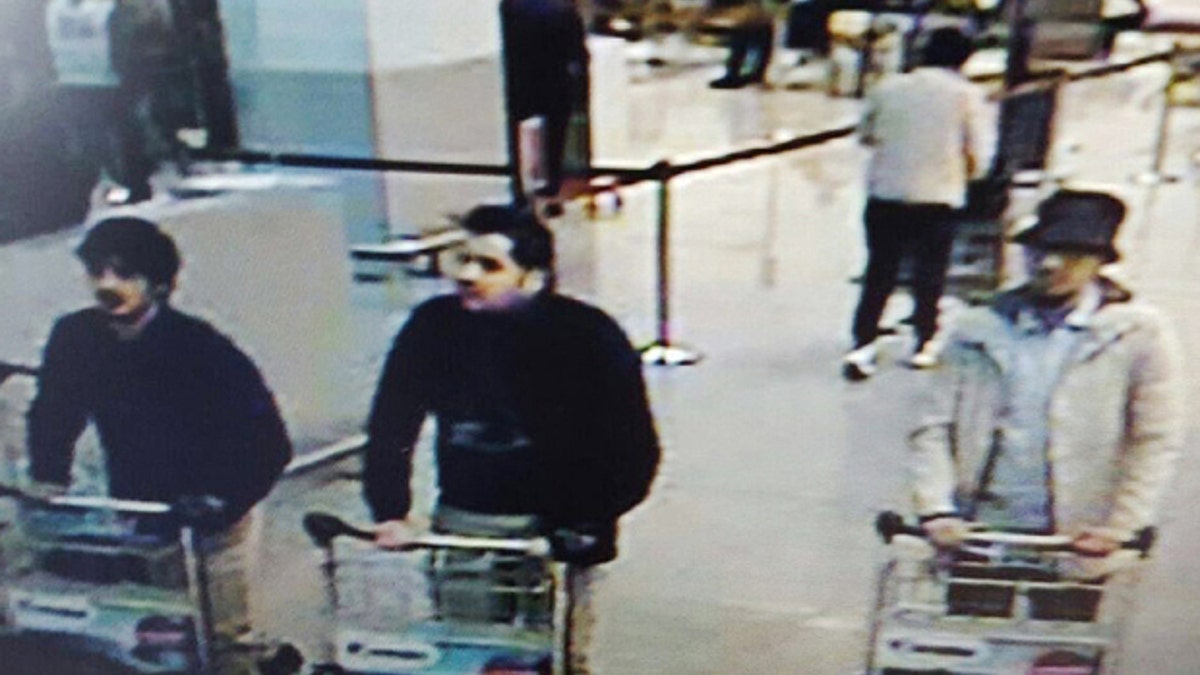 As ISIS claimed credit for the twin, rush-hour attacks, one at Zaventem Airport and the other at a Metro station near European Union headquarters, authorities carried out raids in the capital and in Antwerp that turned up what may be one piece of key evidence.
The search of a house in the Brussels neighborhood of Schaerbeek "led to the discovery of an explosive device containing, among other things, nails," said a Belgian federal prosecutor. Also in the home were chemical products and an ISIS flag, according to The Associated Press.
"Islamic State fighters carried out a series of bombings with explosive belts and devices on Tuesday, targeting an airport and a central metro station in the center of the Belgian capital Brussels, a country participating in the international coalition against the Islamic State."
Authorities were led to the Schaerbeek home by a taxi driver who had picked the three men up there earlier and driven them to the airport, Sky News reported.
Late Tuesday, the State Department warned U.S. citizens about potential risks to travel in Europe, saying "terrorist groups continue to plan near-term attacks throughout Europe, targeting sporting events, tourist sites, restaurants and transportation."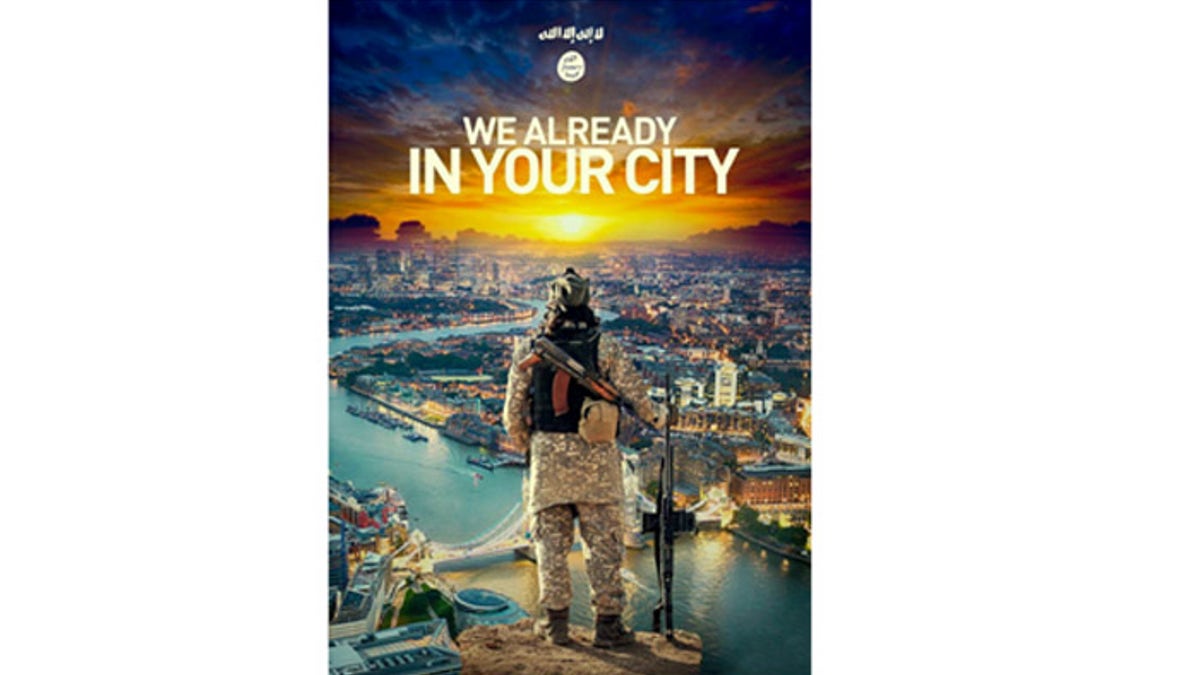 It advised citizens to "exercise vigilance" in public places or on mass transportation, and advised "particular caution" during religious events or large events.
Belgian authorities released a photo that showed three men pushing carts in the airport, prior to reaching security checkpoints. In the image, two men on the left are each wearing dark clothing with a black glove on their left hands, which authorities believe could have been worn to hide suicide vest ignition devices.
A third man, seen on the right side of the photo and wearing lighter clothing, no glove and a hat, was the subject of a manhunt after officials said he was seen fleeing the airport following the bombing. It was not clear what role he may have played, but authorities said he is suspected of working with the suicide bombers.
An intelligence source with firsthand knowledge of the investigation told Fox News' Catherine Herridge that the explosions were set off in aisle three, home to Brussels airlines, and aisle 11, which is Delta.
However, the source emphasized that the bombers appeared to target the highest concentration of passengers checking in - rather than a specific airline - to cause maximum carnage.
At least one suicide vest was used during the airport attack, officials have said, and there were reports that authorities detonated an unexploded vest after the attack.
The bombings came four days after the arrest of Salah Abdeslam, the primary remaining suspect from November's attack in Paris. The attacks sent Brussels into full lockdown mode as police carried out multiple raids within the city.
Abdeslam reportedly stayed in Schaerbeek, the neighborhood where the unexploded bomb and chemicals were reportedly found, for up to three weeks after he fled Paris in November. A more middle-class community than the infamous Muslim enclave of Molenbeek, the western portion of Schaerbeek is home to a large population of Turkish and Morrocan immigrants.
The flurry of law enforcement activity came after a channel on the encrypted messaging app Telegram that is maintained by ISIS described the operation and took credit for the carnage.
"Islamic State fighters carried out a series of bombings with explosive belts and devices on Tuesday, targeting an airport and a central Metro station in the center of the Belgian capital Brussels, a country participating in the international coalition against the Islamic State," the message read.
"Islamic State fighters opened fire inside Zaventem Airport, before several of them detonated their explosive belts, as a martyrdom bomber detonated his explosive belt in the Maalbeek [sic] Metro station. The attacks resulted in more than 230 dead and wounded."
Witnesses said the airport attack, which occurred just after 8 a.m., was accompanied by a shout of "Allahu Akhbar" and gunfire. Sources also said it was possible one or more of the explosions emanated from suitcase bombs packed with nails.
The claim of responsibility could not be corroborated by authorities, but ISIS has been known to use Telegram for its communications for most of the last year. Telegram is a digital messaging system invented by two Russian brothers now based in Berlin who boast their system encrypts content for storage and transmission. Unlike Twitter, Facebook and YouTube, Telegram does not suspend private accounts or cooperate with government intelligence agencies.
Also posted on the ISIS-linked site immediately after the bombing attacks was an image showing a city or a possible composite of several cities with a message warning "We are already in your city."
"This image is from a new Telegram social media channel posted today after the attack," said Veryan Khan, editorial director for the U.S.-based Terrorism Research & Analysis Consortium. "There is no caption, but the graphic appears to be a mixture of different cities, including the river -- London's Thames -- and the rest of the visuals appear to be other cities."
There is reason to be skeptical of the claim, said Ryan Mauro, national security analyst for the Clarion Project and professor of homeland security at Virginia's Liberty University. He said messages and hashtags can be written very quickly after an attack.
"It is so obvious that this is ISIS-related, that ISIS accounts who knew nothing about the forthcoming attacks don't risk their credibility very much by claiming credit," Mauro said.
Belgium, in particular, and Europe, in general, were reeling following the attack.
"What we feared has happened, we were hit by blind attacks," said Belgian Prime Minister Charles Michel.
"We are at war," French Prime Minister Manuel Valls said Tuesday. "We have been subjected for the last few months in Europe to acts of war."
The first two explosions rocked the departure hall at the Brussels airport shortly after 8 a.m. local time. Witnesses recounted a harrowing and chaotic scene.
"First there was one explosion. Everyone started to run and panic broke out. Then a second explosion was heard," one witness told The Brussels Times about the airport explosion.
Zach Mouzoun, who arrived on a flight from Geneva about 10 minutes before the first blast, told BFM television that the second, louder explosion brought down ceilings and ruptured pipes, mixing water with blood from victims.
"It was atrocious. The ceilings collapsed," he said. "There was blood everywhere, injured people, bags everywhere."
"We were walking in the debris. It was a war scene," he said.
Amateur video shown on France's i-Tele television showed passengers -- including a child -- running with a backpack dashing out of the terminal in different directions as they tugged luggage. Belgian news channel RTBF reports a Kalashnikov rifle was found in the departure hall at the airport.
Marc Noel, 63, was about to board a Delta flight to Atlanta, to return to his home in Raleigh, N.C., when the first explosion was heard.
"People were crying, shouting, children. It was a horrible experience," he told AP.
Nine Americans were among the injured, including one U.S. service member and five members of his family.
"Some are critical," a defense official told Fox News.
Three Mormon missionaries, identified by the church as Richard Norby, 66; Joseph Empey, 20, and Mason Wells, 19, all of Utah, were also injured at the airport.
Moments later at the Metro station, another explosion was reported on a train that was stopped at the Maelbeek subway station, not far from the headquarters of the European Union. Ian McCafferty told The Irish Times he was just getting off the metro at the stop before Maelbeek around 8:20 a.m. when he heard a "loud muffled thud" but, because of construction at the metro, he "didn't really think much of it.
"There was a large military presence and mass confusion," he said. "People started to run. Some people were crying. The two stations are only a stone's throw apart. We were the last train through the station before the blast."
The bombings in the European Union capital are certain to add new fire to the raging debate over refugees from Muslim nations where terrorist groups are active. Europe has taken in more than a million refugees, and terror groups including ISIS have said they are infiltrating the wave of migrants.
After his arrest on Friday, Abdeslam, who is suspected of taking part in the Nov. 13 Paris attack that killed 130 people, told authorities he had created a new network and was planning new attacks.
After Abdeslam's arrest and before Tuesday's attacks, authorities were frantically hunting a suspect identified as 24-year-old Najim Laachraoui, who allegedly traveled to Hungary with Abdeslam before the Paris attack. It was unclear whether Laachraoui played any role in Tuesday's bombings, but prosecutors say Laachraoui played a key role in recruiting attackers for ISIS.
U.S. authorities were monitoring the situation, poised to assist in the investigation. Speaking from Havana, President Obama mentioned the attacks before giving prepared comments on the thawing relationship between the U.S. and Cuba. Obama called the attacks "outrageous," and pledged that the thoughts and prayers of Americans are with the Belgian people.
"This is yet another reminder that the world must unite, we must be together, regardless of nationality or race or faith, in fighting the scourge of terrorism," said Obama, who had also spoken to Michel by phone.
French President Francois Hollande said "terrorists struck Brussels, but it was Europe that was targeted -- and all the world that is concerned," adding that "this war will be long."
Fox News' Malia Zimmerman, Catherine Herridge and Matthew Dean contributed to this report.