More bodies spotted on Nepal trekking trail after snow storms, avalanches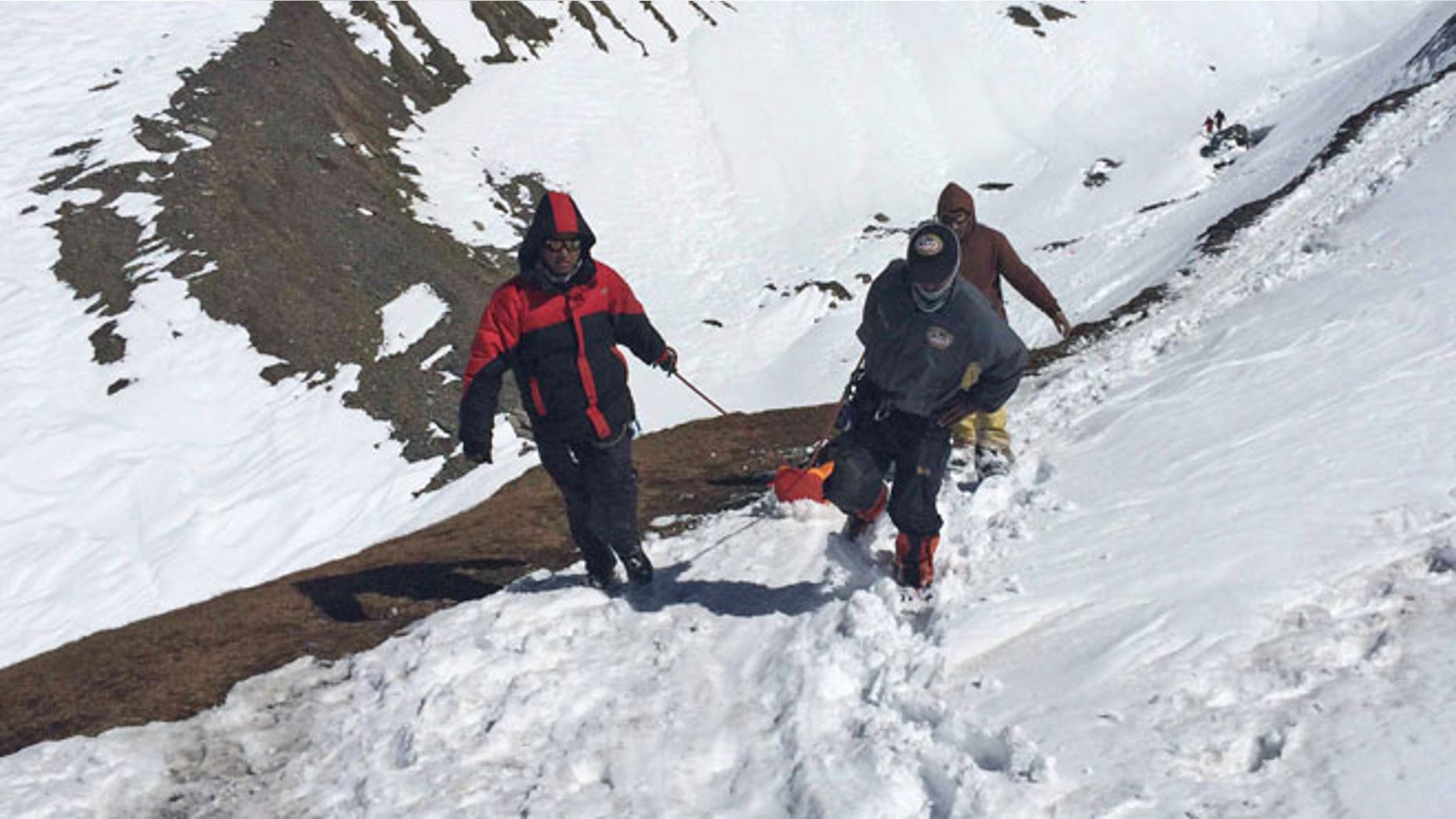 A rescue helicopter spotted nine more bodies Saturday on a trekking trail in northern Nepal, bringing the death toll to 38 from this week's series of snow storms and avalanches in the worst  hiking disaster in the Himalayan nation.
The bodies were seen from the air in Dolpa district, but the steep terrain made it impossible for the helicopter to land, said Yadav Koirala from the Disaster Management Division in Katmandu.
The helicopter picked up three survivors and rescuers on foot would be sent to the area to retrieve the bodies, he said.
The victims are most likely Nepalese porters, said Ram Chandra Sharma of the Trekking Agents Association of Nepal.
Dolpa district is next to Manang and Mustang districts in the popular Annapurna mountain range trekking trail where most of the foreign trekkers and Nepalese guides and villagers were killed this week. Among the dead were Canadians, Indians, Israelis, Slovaks and Poles.
While more than 300 people have been rescued, sometimes plucked from mountainsides by helicopters and taken to nearby villages and towns, dozens more are still taking shelter in isolated mountain huts, said government administrator Yama Bahadur Chokhyal.
The snow storms were whipped by the tail end of a cyclone that hit the Indian coast a few days earlier. The weather has since improved and sunny skies and calm wind conditions were helping the rescue efforts.
Survivors of the blizzards that swept through the Annapurna trekking route said they were caught off-guard when the weather changed quickly.
The skies were clear at the start of the week, said Gombu Sherpa, who was guiding a group of Germans. But that changed suddenly when the snow blew in.
"We could hardly see anyone, even within a couple of feet. The wind was blowing snow and visibility was almost zero," he said in a telephone interview after returning by bus to Katmandu. He said many people lost their way in the storm, but that everyone in his group survived.
One of his assistants, who was behind the group when the storm hit, was missing for an entire night, lost in the blizzard.
"We found him the next morning wandering in the snow. It is a miracle that he is alive," he said.
Most of the people were on or near the Annapurna Circuit, a 140-mile trail through the mountain, the 10th-highest in the world.
The blizzard also left 14 people dead on Thorong La pass, north of Annapurna.
Five climbers -- two Slovaks and three Nepalese guides -- were killed in a separate avalanche about 45 miles to the west, at the base camp for Mount Dhaulagiri, the world's seventh-highest peak.
The deaths are the worst hiking disaster in Nepal, where an avalanche in April just above the base camp on Mount Everest killed 16 Nepalese guides.