Monitors call for Zimbabwe to extend early voting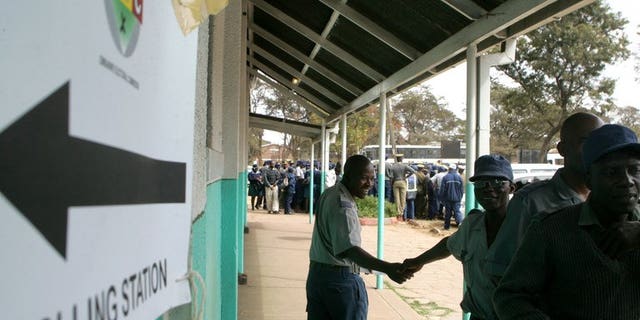 HARARE (AFP) – Local election monitors called Monday for Zimbabwe to extend early voting for thousands of police officers and warned the country's electoral system was in disarray two weeks from a crucial presidential poll.
Early voting for the security services on Sunday was plagued by late-opening polling stations and shortages of voting materials such as indelible ink, stamps, voter rolls and ballot papers and boxes.
"It is only prudent that ZEC (the Zimbabwe Electoral Commission) considers extending the special voting to ensure that all those issued with permission to cast special votes are given opportunity to do so," said Solomon Zwana, chair of the Zimbabwe Election Support Network.
The group said it was "seriously concerned that the chaos that prevailed during the special voting process serves as a telling and worrying indicator that could repeat itself" on election day, scheduled for July 31.
"The process continues to be disorganised, an indication that ZEC was unprepared to conduct the special voting process," Zwana said.
Zimbabwean President Robert Mugabe is seeking to extend his 33 years in power, fending off a challenge from his top rival, Prime Minister Morgan Tsvangirai.
Mugabe and Tsvangirai formed a shaky power-sharing government in 2009 after violent and disputed polls in 2008.
Tsvangirai won the first round of the vote, but pulled out of the runoff after around 200 opposition activists were killed.
In previous elections, security forces have voted in barracks and police camps unobserved.
Security chiefs have openly showed support for Mugabe and his ZANU-PF party, and have blasted Tsvangirai as a stooge of the West.
The security forces, which fall under Mugabe's control, have in the past been accused of rights abuses and intimidating political opponents.